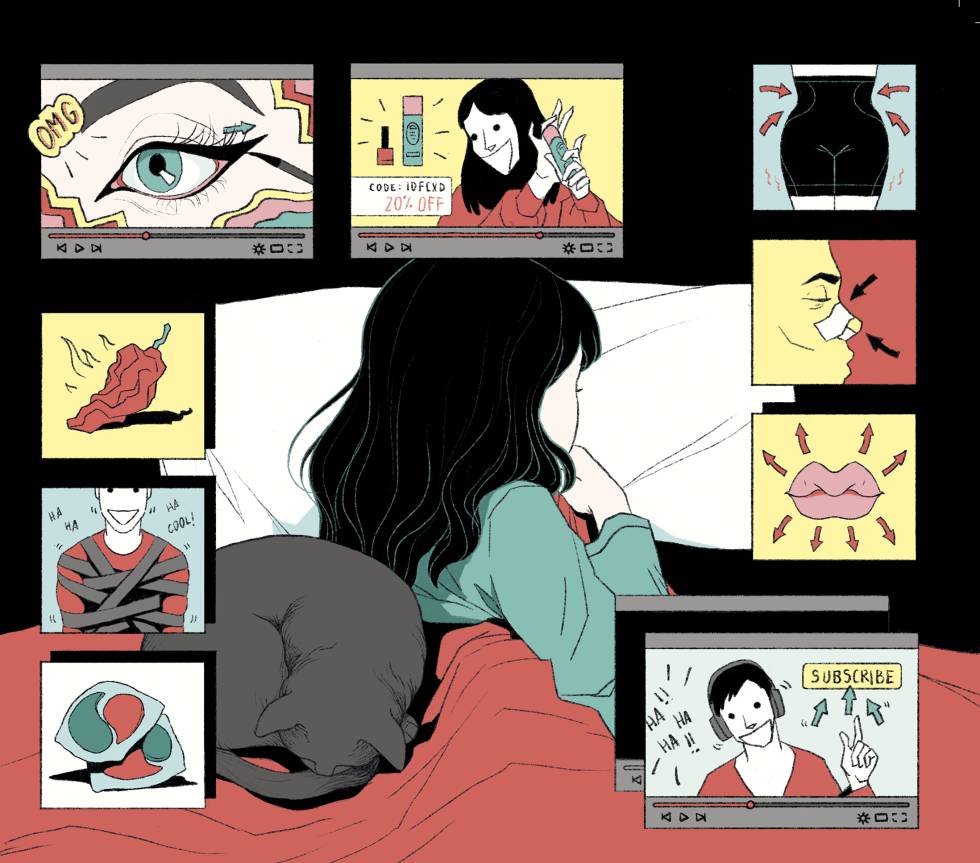 We must not ignore reality or the world in which our sons and daughters grow up and the influence that youtubers have in the construction of their adolescent identity. At any time in history, this stage has a common denominator and it is the construction of one's own identity, an identity that is made up of goals, values, and beliefs. The adolescent is more influential than the adult or the child, insofar as they are in the search for integration and social acceptance. The psychologist Solomon Asch, in his experiment titled Which line was the same as another, showed that people changed their responses depending on whether they were in a group or alone. The results of this experiment showed how the group opinion influences the subject to change it, even if it is wrong. We know how important the group is in the adolescent's life and why they behave differently when they are at home or with their friends.
And this is where social networks occupy a large part of our young people's time. Of all platforms, YouTube it is the one with the greatest prominence. As educators, parents, it is necessary to ask ourselves what needs are covered by youtubersWhat they find in them, what they identify with, because in this way we can better understand their world and be part of it, at a stage in which adolescents tend to build walls that rarely allow us to cross. Unlike the fan phenomenon (the one we live in), where there was a clear distance perceived as unattainable between our idol and us, the youtuber it is quite the opposite: close, accessible, with the same tastes, problems, feelings…, which is why an immediate phenomenon of identification occurs. Another key is that the youtuber offers a spontaneous model, almost improvised, with content that entertains and / or informs. In some cases, the young person can interact directly with them, thus becoming one of the most influential references.
Some studies such as The youtubers: influential mirrors in the adolescent life project they affirm that what young people like most about them "is the ostentatious, uncomplicated, fun, autonomous and independent lifestyle when generating income with their videos, and the outgoing, charismatic, friendly, funny and warm personality that they project. They have generated a stereotype of what it is to be an influencer ".
There is an element that contributes in a powerful way to the trend of young people through social networks and it has to do with the "perception of control" since they are the ones who decide who they follow and who they do not, the topics they prefer, the channels … Freedom of choice contributes decisively to the construction of their self-esteem, at a stage where this becomes the cornerstone that holds the entire personality structure. In exercising this freedom of choice there is a deep satisfaction derived from the perception of control while simultaneously exploring about themselves, who they are, and who they want to become.
The intelligent and effective approach to this reality that has so much weight for our young people is not to demonize or ridicule it, but to try to understand it and be able to see its advantages.
The first and most important thing is respect: for the values ​​and models that our sons and daughters have at their fingertips according to the society in which they have lived, without comparing them with ours. The only way to build bridges to communicate with adolescents is to understand their tastes, habits and needs from deep empathy and honest respect. Therefore, the smartest thing to do is to focus on the positive in this new reality and minimize the negative. Among the benefits are those whose messages enrich the way of thinking of our young people, with discourses of tolerance towards all groups, prevention against alcohol and other drugs, ecology and respect for the environment, animal welfare, interest in other cultures, feminism… On the negative side, they also offer toxic models of consumption, since brands give away their products for influencers to promote them; foul language or the deepening of patriarchal gender roles. Without losing sight of the addiction produced by these videos, designed precisely for this.
It resembles a virtual landscape of what we live playing in the street, choosing who we interact with, exposed, like them, to all kinds of references.
Ultimately, it is about knowing who they hang out with, what attracts them and why, and sitting down to participate in their life from tenderness and humor, understanding and acceptance of an era in which we, their parents, are the strangers.
Olga Carmona is a psychologist and expert in educational neuropsychology.

elpais.com
Eddie is an Australian news reporter with over 9 years in the industry and has published on Forbes and tech crunch.