Lucia Blasco
HayFestivalArequipa @ BBCMundo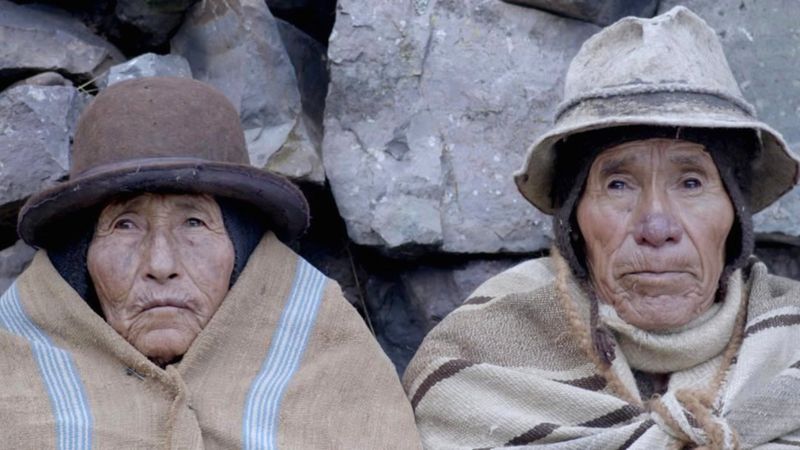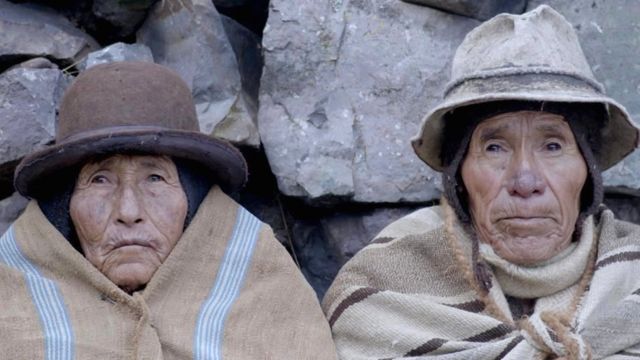 Oscar Catacora, director of the first Peruvian film in Aymara language "Wiñaypacha", died Friday, November 26 At the age of 34, while filming another film in the highland region of Puno.
It was reported that he passed away from a "sudden health problem".
In his honor, we remember the beautiful story that his film told, which, as he told us, talks about loneliness and abandonment.
In a corner of the Peruvian Andes, Willka and Phaxsi are the life that resists the cold and loneliness of the Altiplano. They are the vestige of an ancient culture and language in danger of extinction. The faces of the abandoned elderly who live longing for a visit.
Vicente Catacora and Rosa Nina give life in the feature film "Wiñaypacha" (Peru, 2018) to these two octogenarians who form an endearing couple.
At the foot of the majestic Allincapac, more than 5,000 meters above sea level, the protagonists of this film –the first entirely engraved in Aymara– survive inclement weather and misery, waiting for a wind to bring back their emigrated son.
Sun and Moon (their names in the ancestral language) suffer, cry, laugh and live connected to their beloved Pachamama, Mother Earth.
The young filmmaker from Puno Óscar Catacora, 31, tells us his story. It does not need music, or camera movements, or special effects: 96 still shots are enough to compose a narrative that moves and shudders.
It's his first movie and has already been successful: it won at the Guadalajara Film Festival (Mexico) the awards for Best Young Director, Best First Feature and Best Photography, and was nominated by Peru for the Oscars and the Goya as the best foreign and Latin American film of 2019.
BBC Mundo spoke with him in the framework of the Hay Arequipa festival, which was held between November 8 and 11.
"Wiñaypacha" is a fictional story, but also an autobiographical one. Its protagonist, Vicente Catacora, is your maternal grandfather. What other components of your personal life are there in the film?
I lived part of my childhood with my paternal grandparents in the high areas of the Puno region, at about 4,500 meters high. They did not speak Spanish, so I speak the Aymara language perfectly. The film is based on that past with my grandparents and the nostalgia they felt for the absence of my father and his other children.
My father sent me to live with my grandparents when I was quite small, I was 6 or 7 years old. And he did it with my brother too. We lived there for three or four months during the holidays. There is this custom among those who live in the highlands of Peru. It is a necessary tradition that is being lost today.
My paternal grandparents passed away several years ago. For the production of the film we were looking for an actor who could interpret them and, finally, we decided to bet on my maternal grandfather, who is also Aymara. He was very supportive of the project due to a family matter.
Rosa Nina, the woman who plays Phaxsi, is not your grandmother, but she is not an actress either. What was it like working with her?
Rosa was recommended to us by a friend for her artistic qualities and her sociable character. We went to her house and she immediately accepted our invitation.
The lady had never seen a movie and had never been to a movie theater. I remember very well when he said: "I don't know very well what they are proposing to me, but I am going to support them." It was amazing for us to receive that response. And speaking Aymara with her was key.
Rosa Nina (Phaxsi) had never seen a movie
Then we had six months of intense acting preparation work. At the beginning, (Vicente and Rosa) were very wrong in the dialogue, they tried to improvise, they did not dominate the pauses, the rhythm … it was not easy. It was something new to them.
What was it that inspired you to make this movie?
During my internship in Communication for Development I visited several high Andean towns where I saw the abandonment of the elderly up close. Their children had migrated to the city and very few times a year they returned to see them. They, somehow, suffered from abandonment.
Could it be said then that abandonment is the central theme?
That's how it is. The film addresses various themes, but the central one is abandonment to the elderly. Willka and Phaxi are estranged from society. They need other people, other beings who can accompany and support them.
I have a lot of respect for older people. Thanks to my parents I have learned that the elderly must be respected, that they are containers of wisdom.
But in Peru and other parts of the world there are many people who never visit their parents and grandparents. It is a reality that exists. Many people are losing respect for their elders. They ignore them and treat them badly.
In the city and in the towns, an older adult is a hindrance. On the other hand, in the Andean culture that does not exist: the older they are, the more revered people are.
The film also talks about the loss of identity of the Andean settlers. Andean culture and language have been little valued by society. Just now they are being given a little more importance.
Talk about an effect of globalization: when a child migrates to another social space in search of better opportunities. It is a complaint, a criticism of those who abandon their ancestral roots.
In one scene, Phaxsi tells Willka that he had a dream: his son is coming back. The search for the son is a recurring theme. Who does that son represent? It is aThe viewer himself?
Yes. Some tell me that more than a hint is a direct one to the spectators who have abandoned their parents.
But it also represents our society, the children who will never be able to continue with the cultural legacy. That son who went to a foreign place and who will never be able to transmit the knowledge of his culture to future generations.
It is like a son who was never born. It's a metaphor, actually.
What other metaphors are in the movie?
There's a lot. One of them is phosphorus, which is a product of globalization. Native peoples have become dependent on the globalizing system. That is why a series of tragedies occur in the film.
Another metaphor is the final scene, which addresses the Andean worldview. That is why there is much talk about Pachamama, Mother Earth. In the Andean culture, the hills have sex. There is a male hill and a female hill, and there is a pair of hills. The grandmother enters that mountain to become a goddess, a sacred being. We spent a good time looking for that natural environment to conclude the film. Finding the right geography was not easy.
The mountain is another protagonist of the film. What was it like to shoot more than 5,000 meters high?
It was a great challenge. Despite the fact that in the city of Puno we live at 3,800 meters above sea level, ascending more than 1,000 meters is complicated because the climatic difference is noticeable. We were working sometimes at zero degrees, sometimes less.
But we would never say that he was euthanized. We don't complain about work. In Aymara culture, work is not a punishment from God.
Behind that hill there may be a culture abused by the incursion of mining companies
And yes, the mountain is important. The Andes are considered a scenic beauty to take a good picture. However, one does not realize what is hidden behind that hill. Behind that hill there may be a family like Willka and Phaxsi waiting for their child. There may be a culture that has been mistreated by the incursion of mining companies or other institutions.
The film, in a way, exposes that reality.
There is undoubtedly astrong intention of criticism politiciana in "Wiñaypacha".
Yes. It is a criticism of the State that abandons the native peoples. It is a political look for the State to care about these vulnerable populations.
Peru is a multicultural country. There are about 49 native languages. Some are disappearing little by little. Only in recent years has the Peruvian State been promoting its recovery and conservation.
Indigenous peoples are receiving support in some way. But I fear that it is misused under the pretext of conserving and that many will take advantage of it. I consider that it is a delicate subject to tackle.
There should be more protection and support policies, but with careful treatment. The idea is not that the state turns these peoples into dependents. There should be a strengthening for them, providing support for them to learn to sustain themselves afterwards. The state should prevent the Aymara people from depending on it.
What message would you like to convey to whoever sees your feature film?
That they understand that the family unit is the most important thing in life. That they learn to value their customs and traditions. That they value a little the importance of their family. That they look at the past, where they come from, that will help them project into the future.
My grandmother used to say that the way you treat your parents your children will treat you when you are older.
AND that interpretation, wouldn't you like it to be done?
I would not like the Aymara people to be interpreted as an ignorant people, nor as a miserable people.
One of the greatest values ​​of the Aymara people is pride. We have been a very resistant people and we have faced with that gallantry some cultures that once wanted to overwhelm us.
Winner of the regional competition of the Ministry of Culture, several awards at the Guadalajara International Festival, nominations for the Oscars and the Goya, favorable reviews … Did you expect the success your debut film is having?
Not really. We wanted to do the job well to contribute to the national cinematography when we won the ministry contest in 2013. That was our only intention. It wasn't being at festivals or an international show.
And it is satisfying to hear the good news that you are gathering around the world, but maybe I don't express it much.
That may have to do with my roots. Aymara man is not a person to get emotional easily. I don't mean to say that I'm insensitive, but I don't show that emotionality much. I feel it and I live it internally. And sometimes I share it.
You can see the trailer for the film here:
This article is part of the digital version of the Hay Festival Arequipa 2018, a meeting of writers and thinkers that takes place in that Peruvian city between November 8 and 11.
Now you can receive notifications from BBC News Mundo. Download the new version of our app and activate them so you don't miss out on our best content.

www.bbc.com
Eddie is an Australian news reporter with over 9 years in the industry and has published on Forbes and tech crunch.