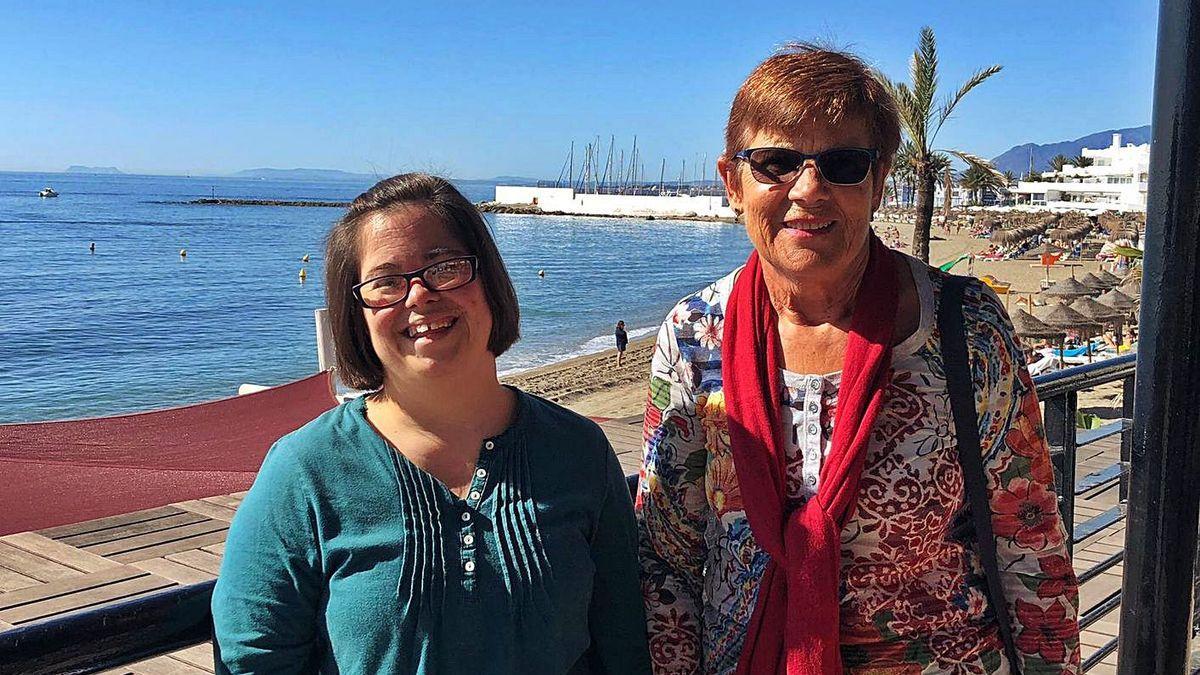 Victoria, 34, was born with heart problems that have forced him to undergo surgery twice and he has a 76 percent degree of disability. She has spent the last year confined at home, with her mother, reducing her outings to the streets to avoid being exposed to the coronavirus. Since December he has been waiting to receive a vaccine that the health authorities have assured him that they will finally administer on Thursday.
After receiving the flu vaccine, she thought that she was already immunized against the coronavirus and asked to return to her work in the association in favor of people with disabilities on the Costa del Sol (Aspandem) and to meet again with her colleagues, whom He hasn't seen for over a year.
But his sister, Marisa Martín, and his mother, of the same name, had to warn him that would have to stay at home to avoid getting the Covid-19.
"« We make her understand the situation and she understands it. But, at the same time, she sees that her life has changed a lot and that she is already desperate to see her colleagues again, to feel active and feel good, "says the sister. of Victoria.
Nor did Marisa think that the moment of her sister's reunion with the other users of the Aspandem nursery occupational center would take so long.
Victoria, 34, was born with a heart disease that has forced her to undergo operations twice, has Down syndrome, with a 76 percent degree of deficiency, and is part of the group of large dependents, a priority to receive the Covid vaccine.
But, After four months of the vaccination process, Victoria is still confined in the bubble at home, together with her mother, counting the trips she makes to the streets to prevent her from contracting the virus. "If Victoria were infected, we know that things would not turn out well. Fortunately, my mother lives in a very quiet area, near the beach and they can go for a walk. Little else. We try, if possible, not to go anywhere else place, such as coffee shops or shopping centers. Nor has he had contact with other relatives than my mother, "says his sister.
Marisa acknowledges that she was "surprised" when she read in the press that the mayor, Ángeles Muñoz, pointed out that she considered the group to which Victoria belongs to have been vaccinated and that she announced that the immunization process would focus on other groups. At that moment, "I got moving. I called doctors, health centers, the Costa del Sol Health District, Salud Responde … I have spoken with everyone I could, but no one knows what, no one knows how, no one She can help me. Some treat me with more kindness and others less eagerly, but my sister is still at home ", explains Marisa.
She is "outraged" to see that the vaccination process focuses on groups with less risk to the virus than Victoria and does not yet have an appointment to immunize her. "We are in mid-April. She was from the first vaccination group, a process that began in December, and is still at home without having been vaccinated," he says.
"There are more cases like my sister's. There are boys in Aspandem who are dependent and large dependents who are still not vaccinated and are at home. The kids need a lot of stimulation, their social group or their activities," he explains.
She defines her sister as a "happy and very good" person who spends time at home "with her readings and her drawings." But if you ask her, says Marisa, she wants to go back to her Aspandem teammates and feel active. "When are we going to go to Marbella to have a chocolate with churros? Why can't we do it? He asks me every day," explains Marisa.
Finally, after the noise generated in social networks, Victoria was assured this Monday that she will be vaccinated on Thursday.

www.informacion.es
Eddie is an Australian news reporter with over 9 years in the industry and has published on Forbes and tech crunch.