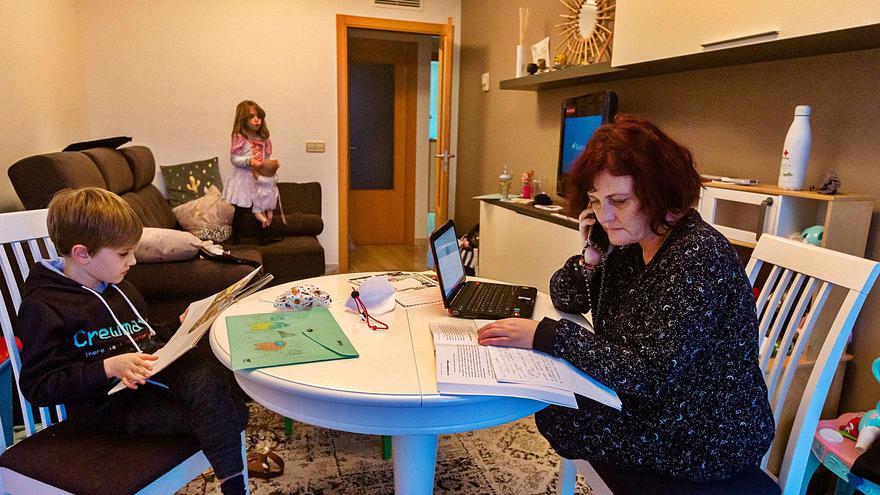 The coronavirus pandemic has precipitated the normalization of telecommuting as one more option within the labor market. In harsh confinement, the need to stay at home triggered this formula by 34% in the Valencian Community, with almost 300,000 people teleworking. The following months allowed a gradual decline that, however, has not returned to pre-pandemic levels. Because teleworking is here to stay. And, furthermore, in the case of women, it threatens to become a new source to feed the inequality gap.
A study prepared by the Workers' Commissions of the Valencià Country on the Active Population Survey (EPA) puts 80,500 employees who in the last quarter of 2020 continued to work more than half of the days from their home: 4.7% of the total . The percentage grows to 5.2% in women. In other words, 42,700 female workers carry out their working hours without leaving home, most of the time, not by choice but by imposition of their company.
This is the case, for example, of Yolanda Navarro. Social worker at the Red Cross, she has been for almost a year combining teleworking with face-to-face work dDue to the fact that in his office not all colleagues can coincide at the same time. The NGO did not provide the option to choose or the means to carry out its function: "They asked us if we had a computer and a telephone and from there we started working." The small size of your home prevents you from having your own room as a workspace, so that She goes from one place to another depending on whether she is alone or accompanied by her husband and children. "It is very difficult to be attentive to one hundred percent when your children are playing in the next room. There are also times that you lack means: a scanner, a photocopier, … Or that you deal with sensitive issues of social vulnerability that the rest of your family does not have to listen to, "he says. For this reason, he assures that if he could choose, "he would head back to the office." And also, he regrets: "We don't even talk better to reconcile because it's impossible: you never disconnect from home or work."
Women who have children are the ones who telework the worst, compared to those who live alone and see in this modality an opportunity to be in a safe space. Angela F., from Alicante, works in a marketing and communication agency and has been teleworking full time since July. She has a 19-month-old son who is not in nursery school. «For him I am his mother who is at home, not a worker, so I have to attend to him at the same time that I send an email or make a call, I have no other choice, because he does not understand that at that moment there could be something more urgent what to take care of, "he laments. Thus, her working hours end up becoming eternal, often until late at night, when her son falls asleep and she takes the opportunity to finish all the tasks scheduled for that day.
Maribel Linares, however, lives alone and has no offspring. Baleària employee in Dénia, she goes to the office a couple of days a week and the rest works from home. For her, the experience is "very positive": "If this mixed formula were definitively established, it would seem perfect to me." In his case, he affirms that from his home he works "more calmly, I organize better and perform more because I can focus on what I am doing", although he admits that his working hours also end up being longer than when he goes to the office and that he it costs more to disconnect.
Enlarge the gap
The poor compliance with working hours and digital disconnect are the two great problems that this new modality has generated. Also, the false belief that working from home can be a measure to facilitate reconciliation. This is recognized by the provincial leaders of the UGT and Workers' Commissions, Yaissel Sánchez and Consuelo Navarro, who agree that, in reality, teleworking has become a trap for many women and in a way to perpetuate labor inequality and the double burden that most of them bear: that of paid work and that of work within the home.
In this sense, both point out that, in addition, teleworking can also leave women out of training and job promotion; outside of prevention and health plans; or lead to a salary devaluation, by saving costs for companies by transferring them to the worker herself, who must bear the electricity, Wi-Fi, telephone bills, etc., for working at home. In addition, both UGT and CC OO warn that the lack of a clear and complete regulation, it is urgent that this modality is contemplated from now on in the collective agreements that begin to be reviewed and demand more social and co-responsibility policies to help workers to release ballast.

www.informacion.es
Eddie is an Australian news reporter with over 9 years in the industry and has published on Forbes and tech crunch.