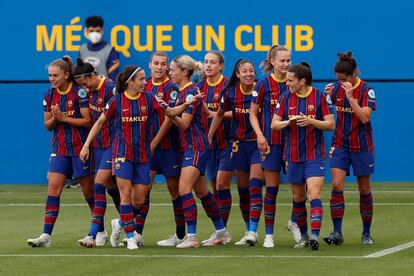 Monday through Friday, training camp; on the weekend, in a lot that served as a parking lot. "I think I still have scratch marks on my knees," says Sheila Sanchón. In the 2001-2002 season, when UEFA organized the first Women's Champions League, Barça didn't even have a section. They played under the name of Club Femenino Barcelona and trained in the fields attached to the Camp Nou, the same fields that were used to leave the cars on weekends. "If the men's first team played home and it rained, on Monday there were ruts, car brands, hard mud. Did we care? At that time, our fight was different ", adds Sanchón, who was part of the Barça team from 2001 to 2009. The fights, then, were smaller. Of which there is no doubt is that they were transcendental and that this path has led to the Champions League final that Barça will play against Chelsea on Sunday.
"Every little advance for us was a great victory. If instead of training on the dirt pitches next to the Camp Nou, we managed to do it on the one next to Mini, which was made of artificial grass, we were already happy ", explains Natalia Astrain, Barcelona coach from 2002 to 2006, today Kansas City's second coach. The first big change was precisely when Astrain joined. On June 26, 2002, a month after the first Champions League final between Umea (Sweden) and Frankfurt (Germany), the women's team was incorporated as a section. "The Champions in 2002? I didn't even watch the final, I think. I was only interested in our team being one more section of the club and forming part of the football organization chart. I insisted and insisted, in the end they listened to me ", says María Teresa Andreu, a former Barcelona footballer and Barça manager between 2000 and 2003." 25% of Barça's social mass are women. It is a club in which women had their weight and it had to be recognized ", explains Joan Gaspart, then president of Barcelona.
Life, in any case, did not cease to be amateur. "We, at Barça B, if we had to play a game away, we would agree among several and take the players by car," says dermatologist Ramon Tordé, coach of the Barça team at the time. "But we were moving forward. Going to have access to medical services was incredible. If there was an injury before, they would go to the Catalan's mutual and it could take months ", Astrain intervenes. His salary was symbolic. He had to train at the FCB Escola (he worked alongside Samper and Bellerín, for example) to be able to live in Barcelona. "The year after we became a section, we began to collect. The salary was 700 euros. Who lives with that money in Barcelona? "Asks Sanchón. The ex-azulgrana worked as a factory operator. Five days a week at the company, four at the training ground. "There were days when we would return by coach from a game at two in the morning and at six I would get up to go to work," says Sheila Sanchón.
Professional since 2016, today women have one of the highest budgets in Europe: four million. And it is a non-deficit section for the club thanks to the sponsorship of Stanley. They train in the Sports City and have the same medical service as the male. They have breakfast and lunch at the club. They have nutritionists and personal trainers. From Sheila's 700 euros per month to the 250,000 a year that the highest paid player of the current Barça takes.
"Sometimes it seems that women's football was invented two days ago. The level in Spain was always very good. The problem was, you didn't gamble. Without training, without care, without anything, it was very difficult to stand out ", Astrain emphasizes. "We were suckers, it may be; but the level was very good. The problem is that we were not compensated for what it was: our work. You couldn't spend 12 hours in a company and then give it your all in the field. But look, our effort has paid off. We are in the final of the Champions League ", says Sanchón.
Without revenge or anger, Astrain reflects on his legacy: "We didn't play to play. We all knew that we had a responsibility to the future. We had to do it. All the people who fought for Barça in the past today are part of this final. Soccer belongs to the footballers ".
You can follow SPORTS in Facebook Y Twitter, or sign up here to receive our weekly newsletter.



elpais.com
Eddie is an Australian news reporter with over 9 years in the industry and has published on Forbes and tech crunch.