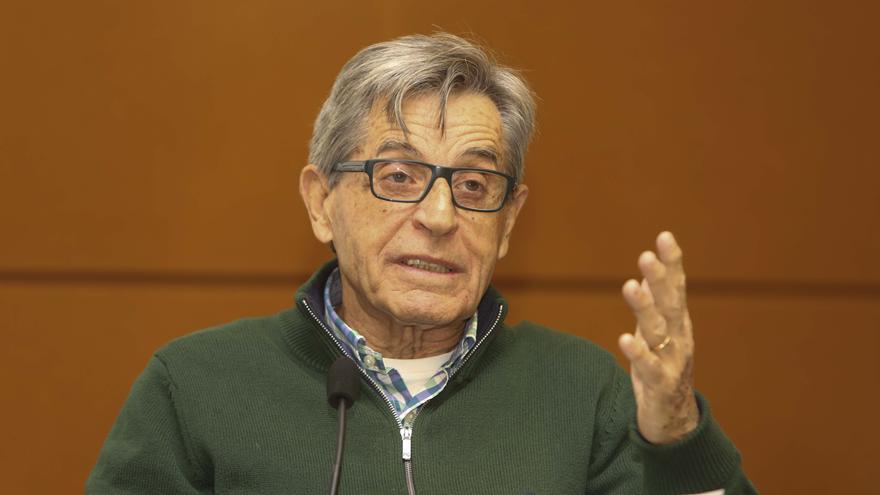 Of him I must affirm his trades as an engineer, as a bridge builder; and as an urban planner, as an urban planning teacher, as an academic author – I do not forget his sadness at the time of retirement. But, above all, I must insist on his facet as a thinker of cities, as a creator of lessons about good urban living. And no one like him, in this city, has been all that for the good and with the ability to give up an enduring legacy.
I met José Ramón through his writings, with enormous admiration. A knowledge, then, from a distance, which was cut forever when I proposed that, in the first year of the UA Headquarters, he would direct the Urban Planning Seminar. Now I admit that I called him with that strange fear, so healthy, that it provokes admiration. He accepted the order. Not without reflections, twists and turns, something absolutely his own in him. I accept, not without warning myself of the problems it could cause, of the difficulties that its criticisms provide. His humility led him, and I think it continues to lead him, to that critical existentialism that begins with himself, and which is what has made him irreplaceable. If his students benefited from experience and knowledge, citizens have been favored with their allegations, absolutely appropriate, with their proposals expressed in the media or public presentations, which contributed little to him other than displeasure, compensated by appreciation and respect from friends … and even from enemies. Once he criticized a mayor and he asked, resignedly, if there has been a mayor – or mayoress – who has not been criticized by José Ramón. Well no, fortunately. That is why his radical sincerity shines more: in this city too in love with his goodness and his aphonia, there are not many good citizens.
The first lecture I heard, in that cycle, from José Ramón, was about the skin of the city, that is, its flooring, according to its textures, colors or materials. I learned a lot that night: not only because the theme was original, but because it brought a great lesson: in the city there is no small place or vain initiative, but rather decisions that contribute to making it better or worse in the daily construction of what is possible. I learned that there is no neutral in a complex city. Understanding that, at the same time, is an invitation to attention and commitment; It is not just a matter of collecting details, but of understanding that, in those details, tiny as the curb of a sidewalk, or huge as an urban piece, it is where the meaning or nonsense that justifies urban life will grow.
Years later I read, at the suggestion of José Ramón, to Jane Jacobs, and in an enlightening paragraph, I understood better the meaning of that first lesson: "A neighborhood in harmony achieves a miraculous balance between the decision of its inhabitants to preserve their privacy and their simultaneous desire to establish various degrees of contact, relaxation and help with neighbors. This balance is mainly made up of myriad little details sensitively administered, practiced and accepted so spontaneously that they are routinely overlooked. " José Ramón, in some beautiful pages about Borges and Buenos Aires, refers, it seems to me, to this: "A city is like a text, but whose construction and reconstruction are continually produced, not only in the reality of its spatial and physical matter, but through the looks, experiences, desires of those who live it, or think ". His teaching from Alicante has contributed to this: to teach us to read between crooked lines of enchantments and frustrations.
It seems to me that everything we learned from José Ramón revolves around that idea: either the city is a place of meaning that gives meaning to life in common, with its material and symbolic elements, or it deteriorates towards being a "no place" in the one where existence gets rough. We have known a lot in Alicante about that, about how its public space, its coexistence scenarios, were taken away from it. And never, never, was the voice of José Ramón missing or missing, raised against that arbitrariness. The best proof was his incessant struggle, in which many of us hardened around him, against the Rabassa Plan, the example of the worst urban planning that was wanted to be practiced and that could stop an armed citizen mobilization on an expert knowledge that, among others, he provided. There the Platform of Citizen Initiatives was born, of which it was a constituent and essential part. It is impossible to detail here his contributions, but think about any debate, protest, elaboration or proposal and he will be there. And not always without some uneasiness. It was not easy, sometimes, to convince him of some things. And since my friendship has also grown by learning to understand your reluctance and some anger, I will tell you now that a city is also the place of patience and embrace.
An anecdote: approaching a municipal elections we proposed to elaborate a book with theoretical contributions; the volume was called "Pensando en Alicante. Ideas for another city model ", and I think it was a good idea, which was attended by citizen leaders, professors, geographers, historians, town planners, trade unionists, architects … But José Ramón announced that he did not agree, that he did not intend to participate and until he left the PIC. We are very sorry but the book was released. Almost when it was in the press, José Ramón arrived… but not with one article, but with two… And so on, we already see it: from time to time he writes, speaks and illuminates. It is one of those essentials that are so scarce.
These notes are worth as a hasty portrait of a good, cultured, independent, intelligent man who casts his eyes on Alicante, without the soothing of the cliché, and with the touch of some pain. Because he not only knows about the wild loves that hurt Alicante from time to time, but he usually knows what could be done to avoid it and improve our city. Knowledge sometimes causes harm. Another teacher who was prompted by José Ramón, Henri Lefebvre, would highlight in "The urban revolution" that there is a urban practice which always is concrete. This is the penultimate lesson of José Ramón's critical rationality: he keeps telling us that we have to go to the concrete, that we have to oppose ideas and facts to the monsters of unreason.
And the last, great lesson. Italo Calvino says that "each city receives its shape from the desert to which it opposes" and that "the city is redundant: it repeats itself so that something becomes fixed in the mind." Thinking against which desert we grew up in History, against which desert we are building History right now, is the redundancy that will only allow us to fix in our mind the question of what are we ourselves, those gathered here, those who celebrate an award, those who are outside Perhaps those who never worry about these things, because the city surpasses them or because the city does not manage to free them from other anguishes. That last lesson, then, is that this is our inalienable city, the city that with José Ramón Navarro Vera we learned to love, perhaps against all hope. Because, as Kavafis says:
"You said: 'I will go to another land, I will go to another sea.
Another city must be better than this one.
(…. …. …..)
You will not find new lands, you will not find other seas.
The city will follow you.
You will wander the same streets.
And in the same neighborhoods you will get old;
and between the same walls you will go gray.
You will always come to this city. For another land -don't wait-
you don't have a boat, there's no way "
Thank you very much, José Ramón, for these and so many lessons.

www.informacion.es
Eddie is an Australian news reporter with over 9 years in the industry and has published on Forbes and tech crunch.