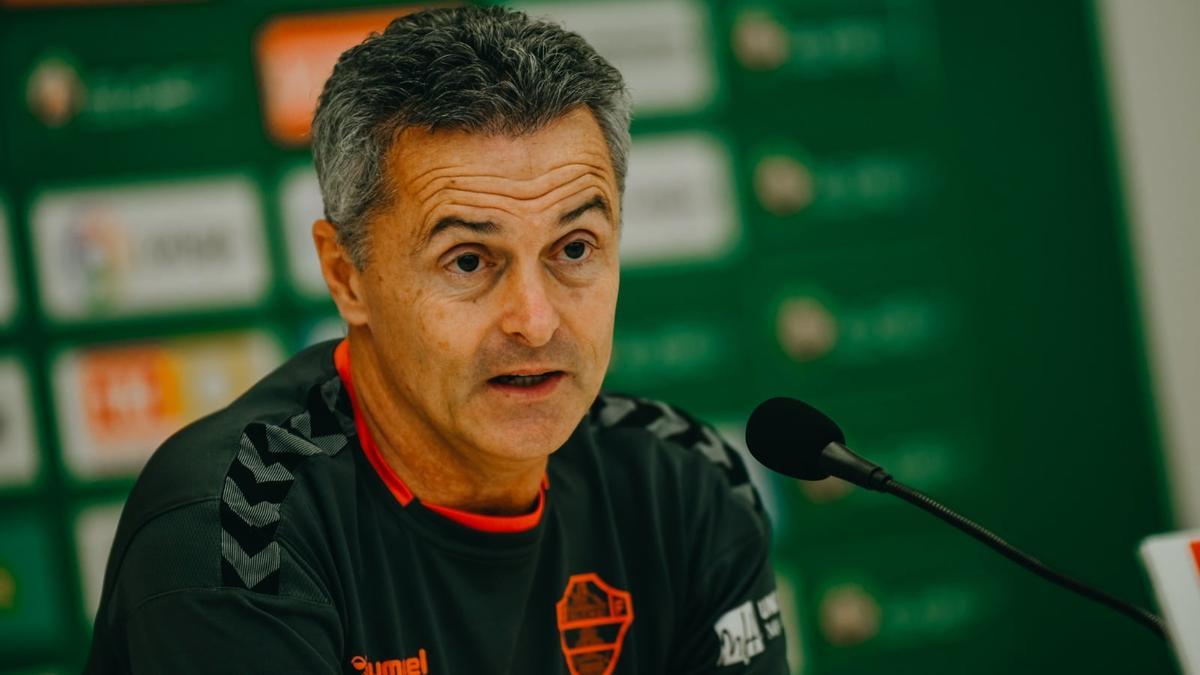 "I hope things are noticed", assured a few minutes ago the new Elche coach, Fran Escribá, when asked at a press conference about the little time he has had to prepare his first game as a coach. "My idea this week during training has been to improve things in defense and attack, to influence the order of the team in the field and we have really worked very well, both personally and professionally it has been an extraordinary job. I am very satisfied with everything seen ", affirmed the trainer franjiverde.
Write wait, "logically", start this new stage at the club "with a victory", but warns that "the game against Eibar is going to be very complicated because it is a team that knows how to compete very well. We are also prepared to compete well, but it will be a very close match that can be decided by small details."
Tomorrow Elche celebrates 700 games in the First Division. "A milestone that says a lot about the greatness of our club. I sometimes remember that great Elche from the early 70s ", pointed out the coach, who confirmed that" in small terms, of course, it is an honor to be part of the history of this club. "
Josan and Mojica, recovered
The coach highlighted the recovery for tomorrow's game of two key pieces in the last games, Josan and Mojica. Both had to retire due to muscle discomfort in the thigh in the match against Celta last day. Escribá assured that he has them, although not with Fidel and Diego González, that "they continue to work very well but it is not worth taking a risk with them".
The best game scheme for the new coach is the one that best suits each game and to every situation. "He who grants you balance and order. The most important thing for me now is to balance the team first, that there is a good balance between offense and defense. "And for that," I count on everyone. Obviously some will play more than others, but everyone will participate; Everyone is going to have quality minutes. "Regarding the tactical demands he has made on his players, the coach emphasizes that" they are easy for them to assimilate. They are not very complex concepts that would require more time. We try to give the team order and balance. We must start from that balance. Otherwise it would be much more difficult. "
Escribá has worked in five days of training the tactical aspects of the game, but also the spirits of the players. "Without a doubt, without a head there are no legs and if you don't have a proper frame of mind, your legs don't work"He pointed out." To detect the state of my players I also count on the technical staff and we have all chatted as a group at the end of today's training. I already said it in my first speech a few days ago and I repeat it now: I do not see any player overcome by the bad situation the team is going through. I think I am characterized by creating a good atmosphere between the coaching staff and the squad in my teams. A happy environment but always responsible at the same time. If you ask all the players one by one, they are all convinced that we are going to get out of this situation. "
The rival
Regarding Eibar, rival tomorrow (2 pm) at the Martínez Valero, the French-green coach emphasizes that it is a team "with very clear signs of identity, like all Mendilibar teams." Furthermore, "it is a group that does not make big mistakes, very committed … always. Play who plays. You don't even see a demotivated player, due to the idiosyncrasy of his club, but also due to the merit of his coach. "In addition, no matter how much his coach said at a press conference yesterday that the draw would be good for them, "I know perfectly that Mendilibar is going to come to win. I am convinced that if a draw could be agreed, I would not want to ". And Elche also comes out" to win. Logically, if they tell me to tie or lose, I'd rather lose, but we need to win. "
On the streak of 16 games without winning, Escribá assures that "logically there are many and it is logical that the players weigh" this figure, but they are professionals in the elite and must know how to withstand the pressure. It is true that we come from a bad streak but there is time to reverse this situation".
Quarry players
Escribá highlighted to the Press his predilection for the quarry. "If someone reviews my career they will be able to see that I am in love with the quarry. I grew up, as a footballer and as a coach, in the quarry. The coach assures that a player from the Elche subsidiary "will be in the call And I assure you that if it comes, it is not to make a big difference. Of course, I will be very attentive to the quarry, although it is understandable that right now it is not my priority. "

www.informacion.es
Eddie is an Australian news reporter with over 9 years in the industry and has published on Forbes and tech crunch.