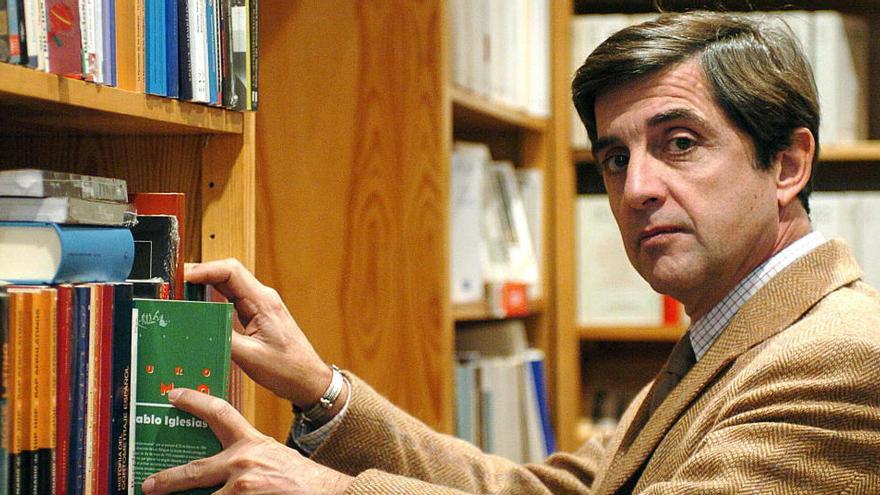 The writer, philosopher and editor Enrique Lynch, author of outstanding essays on the relationship between language, literature and philosophy, with works such as 'The lesson of Sheherezade', 'The prowler' or 'Prose and circumstance', He died this Tuesday in Barcelona at the age of 72, have informed sources close to the author.
Born in Buenos Aires (Argentina), on May 31, 1948, Enrique Lynch Frigerio belonged to a family with a great literary tradition. He was the great-nephew of the writer Benito Lynch and the son of the narrator and intellectual Marta Lynch.
Enrique Lynch He graduated in Philosophy from the University of Buenos Aires and, after the military coup in his country, he went into exile in Spain, where he settled in 1976, validated his studies at the Autonomous University of Barcelona and acquired Spanish nationality in 1981.
It was literary director of GEDISA from 1977 to 1986, advisor to Carlos Barral in the defunct Argos-Vergara, director of Muchnik Editores and member of the editorial board of Ediciones Destino.
As an editor he specialized in publishing works of contemporary thought, introducing new values ​​like Vattino, Kermode and Geertz.
Also, during his lifetime collaborated in specialized magazines for which he wrote numerous essays, and also wrote for the media, in the sections of culture and cultural supplements of newspapers such as'La Vanguardia 'and' El País'.
Likewise, he gave numerous courses and gave lectures in different Spanish centers.
His essays have usually been directed towards the relations between philosophy and literature., narrative discourses or aesthetic issues.
In 1987 Lynch published his essay 'Hobbes: The Grammar of Obedience' (Peninsula) and a year later 'The Lesson of Sheherezade: Philosophy and Narration' appeared, a finalist work for the XV Anagram Essay Prize and for which he was nominated as a candidate to the National Essay Award, in its 1988 edition.
In March 1989 Lynch took part, in Plasencia, in the XXVI Congress of Young Philosophers with the conference 'Rhetoric and Rhetoricity' and was part, in 1990, of the Encounter of Philosophers and Essayists, which was held in the Asturian town of Verines, under the motto 'Thinking in the West- The philosophical essay today'.
That year his work 'The Marauder: Tentatives on Philosophy and Literature' (Anagrama) was published where through readings by Canetti, Freud, Ortega, Shakespeare, Quincey and Descartes, he addresses the relationship between the narrative model and the rhetoric of argumentation .
In 1991 he took part in the summer courses at the Autonomous University of Madrid and in 1992, after obtaining the PhD degree in philosophy with a thesis on Nietzsche's theory of language, won the position of Professor of Aesthetics at the University of Barcelona.
In 1993 his work 'Dionysus asleep on a tiger: Through Nietzsche and his language theory' (Destiny) appeared, based on the thesis with which he received his doctorate and directed by José María Valverde.
In 1997 he published one of his most significant works, 'Prose and circumstance', a literary exercise based on stories of personal circumstances, and in 2003 saw the light "In-moral: History, identity, literature (Fondo de Cultura Económica), a reflection on philosophy and history, philosophy and literature and identity prejudices.
In 2004 he founded 'Las Nubes' a digital magazine of philosophy, art and literature together with Elisenda Julibert, Gonzalo Torné, Socorro Giménez and Antonio Gutiérrez Vara.
His latest book, 'Essay on what is not seen' (Abada editores), was published a few weeks ago and in it he reconstructs the genealogy of the notions of image, from cave paintings to virtual objects of current art ".

www.informacion.es

Digsmak is a news publisher with over 12 years of reporting experiance; and have published in many industry leading publications and news sites.