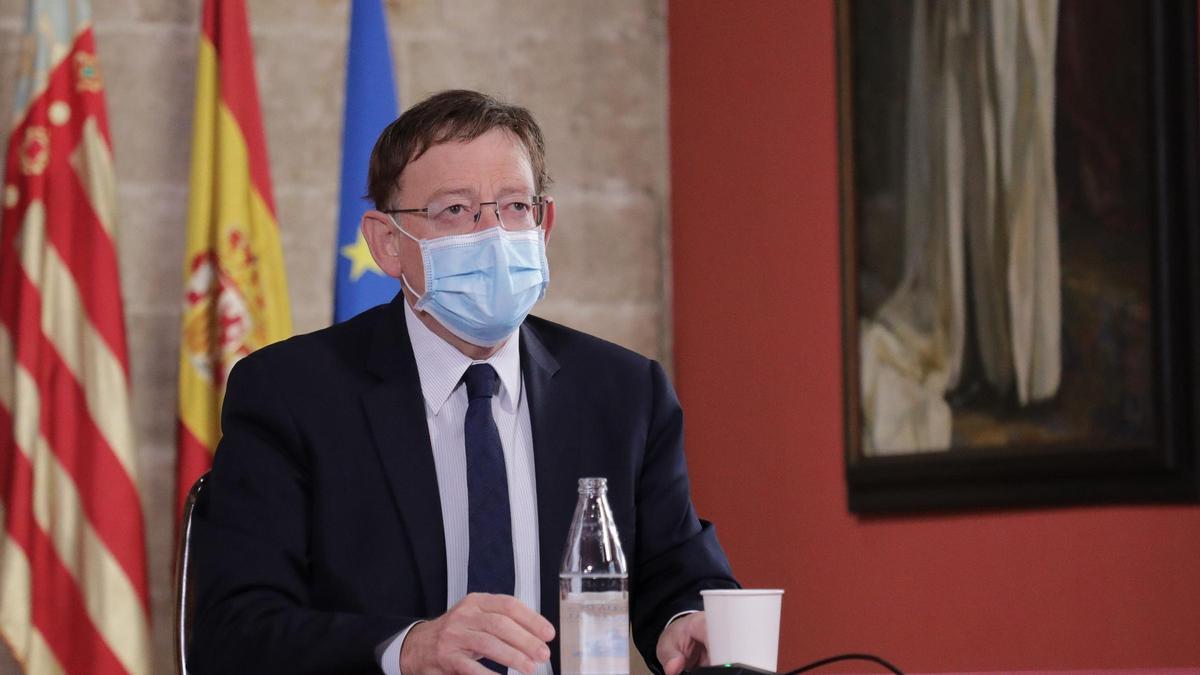 The president of the Generalitat Valenciana, Ximo Puig, has reiterated that 2020 Christmas parties will be "different" from other years like consequence of Covid-19, with "restrictions", and has been in favor of reaching "general agreements" in the measures to be adopted. "The important thing at Christmas is the feeling and not the way to express that feeling; therefore, we have to live conditioned," he insisted, and urged the population to advance the Christmas shopping Y avoid "crowds at the end".
Puig has spoken in these terms in statements to the media after presenting the awareness campaign against attacks on health personnel 'Let's respect those who take care of us', in an event in which he was accompanied by the Minister of Health, Ana Barceló.
Restrictions
The 'president', asked about the measures that are planned for Christmas, recalled that the Community follows a strategy and they have adopted a series of restrictive measures that are in effect until December 9, as the perimeter closure. After that date, the situation and evolution of the pandemic will be evaluated.
In any case, he has anticipated that they will be a different Christmas parties: "We have to be aware that they are not going to be the usual parties. We will live them differently, although the important thing is the feeling and not the way to express it," he said.
In his opinion, it would be "good" if there was a "general vision" of the measures at Christmas "that would facilitate the understanding and support of the public." "I think that as far as possible, it would be fine harmonization in the set of measures, although there may be some exceptions. But reaching general agreements on how to organize Christmas and holidays, "he insisted.
Asked if a relaxation or tightening of the measures is contemplated after December 9, Puig has indicated that right now he does not think about relaxation. He has also referred to Christmas shopping and has asked to start "earlier" to buy gifts to avoid crowds and help trade.

10
Antigen testing
On the other hand, Puig has been questioned for his opinion on the possibility of pharmacies carrying out antigen tests, and has pointed out that it is necessary to listen to what the experts say "and do it with serenity and good organization", insisted.
"There are many visions in testing", he stressed, to add that in the event that it is finally possible to collaborate with pharmacies, "it must be done in an organized manner and with basic security conditions, and that would be done if it is concluded that it can be supported."
Puig has indicated that in the Community "there is no basic contrary position, but it is necessary to be effective and to do so taking into account the ecosystem of testing, which is varied".
"We agree – he added – that all the health sectors that want to collaborate, can do so within a framework. the most effective itinerary", he insisted." Everything must be approached with prudence and security and we are awaiting the decisions that are taken in the Interterritorial Council, "he said.
The 'president' reiterated that it is the technicians who have to say if the tests are valid and how they should be done. Speculating on this question is not advisable, has affirmed. "The group of communities are waiting to see the technical criteria and protocols. And if it goes ahead, we will make a plan agreed with the sector to see in what way it is possible to collaborate," he said.

www.informacion.es
Digsmak is a news publisher with over 12 years of reporting experiance; and have published in many industry leading publications and news sites.