Two stories in Yasmin Khan's cookbook Ripe figs talk about the power of food.
In the first, Khan recounts how Greek volunteers began carrying containers of food for the sleeping migrants in a park, but insisted that the food be homemade. "We wanted to get the message across that someone cares about you. He cares enough to spend the afternoon baking a cake that smells or feels like home, "said Nadina Christopoulou, one of the founders of the initiative.
Second is the story of Home for All, a restaurant On the shores of a fishing port on the shores of the Gulf of Yera in Lesbos, where, every day, 40 migrants are brought from some of the most violent refugee camps to eat in a bright, communal and lively restaurant. . "Being able to eat in this comfort, at a table, with the appropriate cutlery… restores dignity to people, reminds them of who they are. It makes them feel at home, "said Katerina Katsouris., who is a co-owner of Home for All with her husband.
Those acts of caring are what inspired Khan, the chef and author of Zaitoon, to make a trip to Greece, Turkey and Cyprus to cook in refugee camps. He saw how humanity can be restored with a plate of food, a glass of wine, a conversation at a shared table. The cookbook focuses on the similarities between the foods in each place. In that way, Khan writes, "you can begin to see similarities where political boundaries insist on division and difference."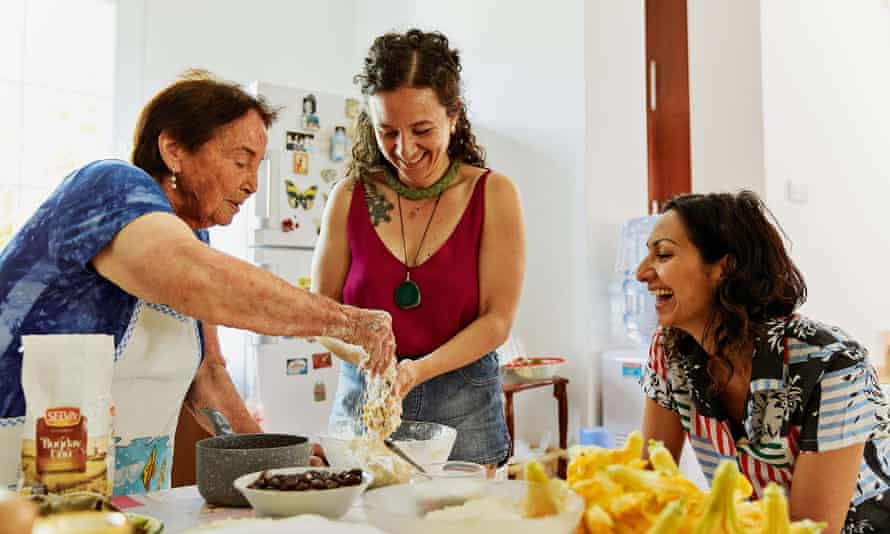 He says he wants this book to open people's eyes to the immigration crisis. Why did you think a cookbook would be a good place to bring this topic to life?
Food is an incredibly powerful vehicle for helping us understand ourselves and the world around us. When you learn about food, you don't just learn about a set of ingredients. You learn about history, geography, migration. For many years I was a human rights activist, working on issues ranging from police shootings to the blockade of Gaza. What I learned was that when you are trying to raise awareness of very important political issues, the most important thing is trying to make a connection. Food is a wonderful way to connect people, because it is so visceral, something that we can all relate to.
In the US and UK, there is often an attitude towards migration that 'We don't have enough. ' You find people who really don't have much to open their arms, and they don't just say: 'We are going to give you a sandwich ', but 'We're going to make sure everything we give you is homemade. ' Tell me about that difference.
Turkey is the world's largest refugee host: there are 3.6 million refugees in Turkey. In 2020, USA was installed just under 12,000. The way that political leaders on both sides of the Atlantic have scapegoated refugees and migrants does not really reflect the number of people moving to these countries, nor the fact that migration is only an essential part of what means to be human. . Throughout our history, we have always been driven by our survival.
You mention in the book that you chose recipes from Greece, Cyprus, and Turkey to focus on the similarities between places where governments insist on seeing differences.
Absolutely. Borders are a completely man-made construction. The very notion of nation states is very recent in human history; we are looking at a few hundred years, mostly. I just wanted to go back and look at the region, where we don't see artificial lines and try, yes, to celebrate the common ground.
You believe in open borders.
We have open borders for a sector of society. The rich can move very easily. Cyprus is a classic example: on the one hand, there are refugees who make dangerous trips in rough waters and small boats, trying to reach the island and then potentially putting them in a camp. And then for others, there are [investor citizenship schemes] where, if you invest 2 million euros in Cyprus, can buy a European passport.
In many Western democracies, especially the US and UK, good food is often presumed to be a luxury or middle-class concern. a thing of rich people. What do you think of that mentality?
I am of mixed descent: my mother is from Iran, my father is from Pakistan. My family are small-scale farmers in northern Iran. Food is a great occasion for celebration in my family. Every meal, be it breakfast, lunch or dinner, is one of the highlights of the day.
Sometimes people ask me, wasn't it difficult to talk to people about food in this really challenging circumstance? No, of course it wasn't, it was a lot of fun! On [some places], people live to eat and the concept of food is about a broader concept of community. That is wonderful. Food is like a universal language that allows you to communicate feelings of empathy, connection, hope, love.
What do you hope this book opens people's eyes to?
That there is no type of migration crisis, this is exactly what happens when fences and walls are erected. It is the wrong answer. Since humans existed, we have traveled and migration has been an intrinsic part of survival. I just hope the book fosters a greater understanding and empathy for refugees and migrants so that we can begin to coexist on a shared planet, in the way that we deserve.
Smoked Lime Beans – Giants Plaki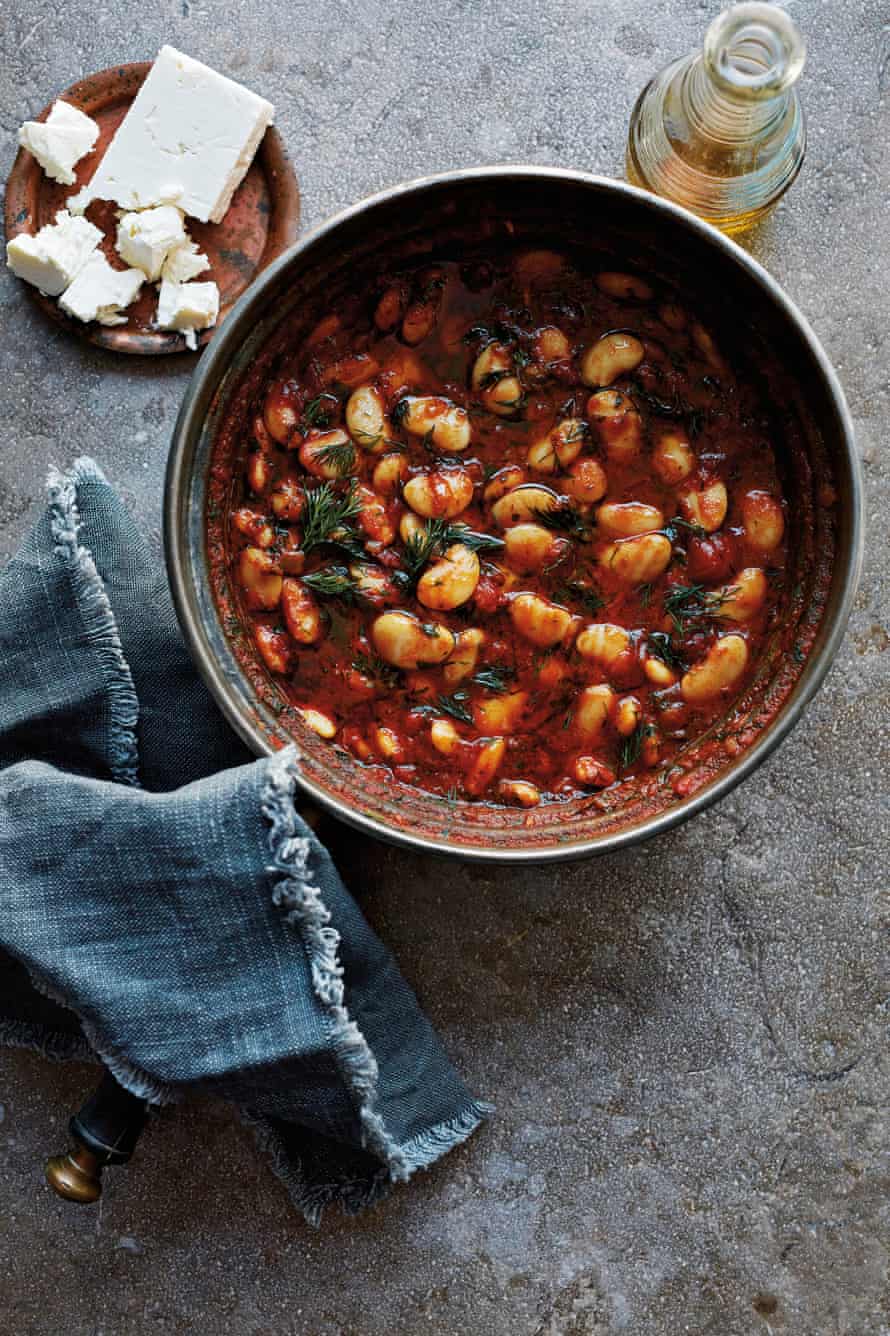 This is one of those punchy pantry recipes that is easy to make as a weeknight meal and is inspired by a traditional Greek dish of baked beans in tomato sauce. What gives this dish its unique flavor is the paprika (I add both the smoked and the sweet versions, not the spicy and spicy ones), which adds a richness and earthiness that I find irresistible. Alternate between sprinkling crumbled feta cheese on top of this dish and keeping it simple as it's just as delicious without it. Serve warm or at room temperature.
Homework 10 minutes
Cook 65 min
It serves 4 as part of a mezze or 2-3 as a main course
3 tablespoons vegetable oil
1 small onion, finely chopped
2 cloves of garlic, crushed
1 x 400g can of diced pear tomatoes
1 tsp granulated sugar
1½ teaspoon Dried oregano
1½ teaspoon sweet paprika
½ teaspoon smoked paprika
¼ teaspoon ground cinnamon
2 x 425 g cans of beans, drained and rinsed
200 ml of freshly boiled water
3 tablespoons extra virgin olive oil
1 tablespoon finely chopped dill, and more to serve
1 tablespoon finely chopped parsley leaves, and more to serve
100 g of feta cheese, crumbled (optional)
Salt
Black pepper
Heat the vegetable oil in a large saucepan. Add the onion and sauté over medium heat for 12 to 15 minutes until soft. Add the garlic and cook for a few more minutes, then add the tomatoes, sugar, oregano, both types of paprika, cinnamon, 1 teaspoon of salt, and a generous grind of black pepper. Cover and simmer for 15 minutes.
Add the beans to the tomato sauce with the hot water and another ½ teaspoon of salt. Cover and simmer for 30 minutes.
Add the extra virgin olive oil and herbs and cook for the last five minutes. Taste, adjust seasoning, and sprinkle with more herbs and crumbled feta cheese if you feel like it, just before serving.
Chicken with pomegranate and sumac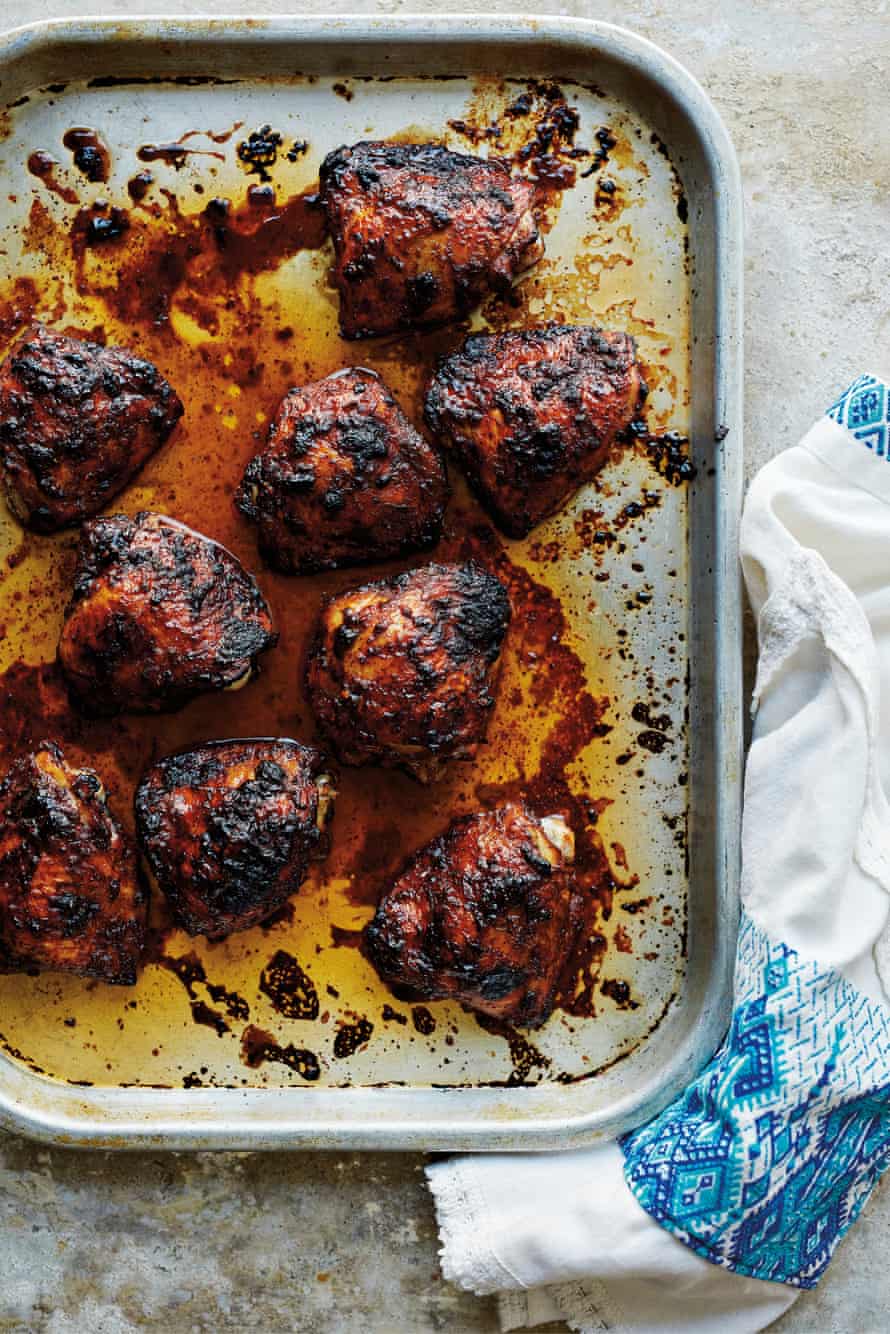 This is an easy chicken skillet recipe inspired by a Syrian meal I ate at Reem, a restaurant on the Greek island of Lesbos run by Mahmud Talli. Mahmud, a Syrian doctor who managed to escape the war, found himself trapped on the island after seeking refuge there, and soon put all his efforts into helping to serve newcomers to Lesbos by volunteering at a local community kitchen and establishing your restaurant. This sticky roasted chicken leg can be marinated ahead of time and placed in the oven shortly before eating. If you don't want to use chicken thighs, this also works with a whole chicken, articulated in eight pieces.
Prepare and marinate 3 h 30 min
Cook 35 min
It serves 4
8 large chicken thighs, with skin, with bone
3 tablespoons olive oil
3 tablespoons pomegranate molasses
1 tablespoon Tomato paste
½ teaspoon ground allspice
2 teaspoons chilies (Aleppo pepper)
1 tsp Sumac
¼ teaspoon ground cumin
two large garlic cloves, crushed
Salt
Bmissing pepper
Place the chicken in a large bowl and top with all ingredients (except olive oil) with 1 ½ teaspoon of salt and ½ teaspoon of black pepper. Using your hands, massage this into the chicken until evenly coated, then cover and place in the refrigerator to marinate for at least 3 hours.
When you're ready to eat, take the chicken out of the refrigerator and leave it at room temperature (this will take about 20 minutes).
Preheat the oven to 200C / 390F / gas 6.
Place the chicken on a rimmed baking sheet and drizzle with the olive oil. Transfer the pan to the oven and roast for about 35 minutes, or until the chicken juices run clear when pierced at the thickest part.
Cypriot potato salad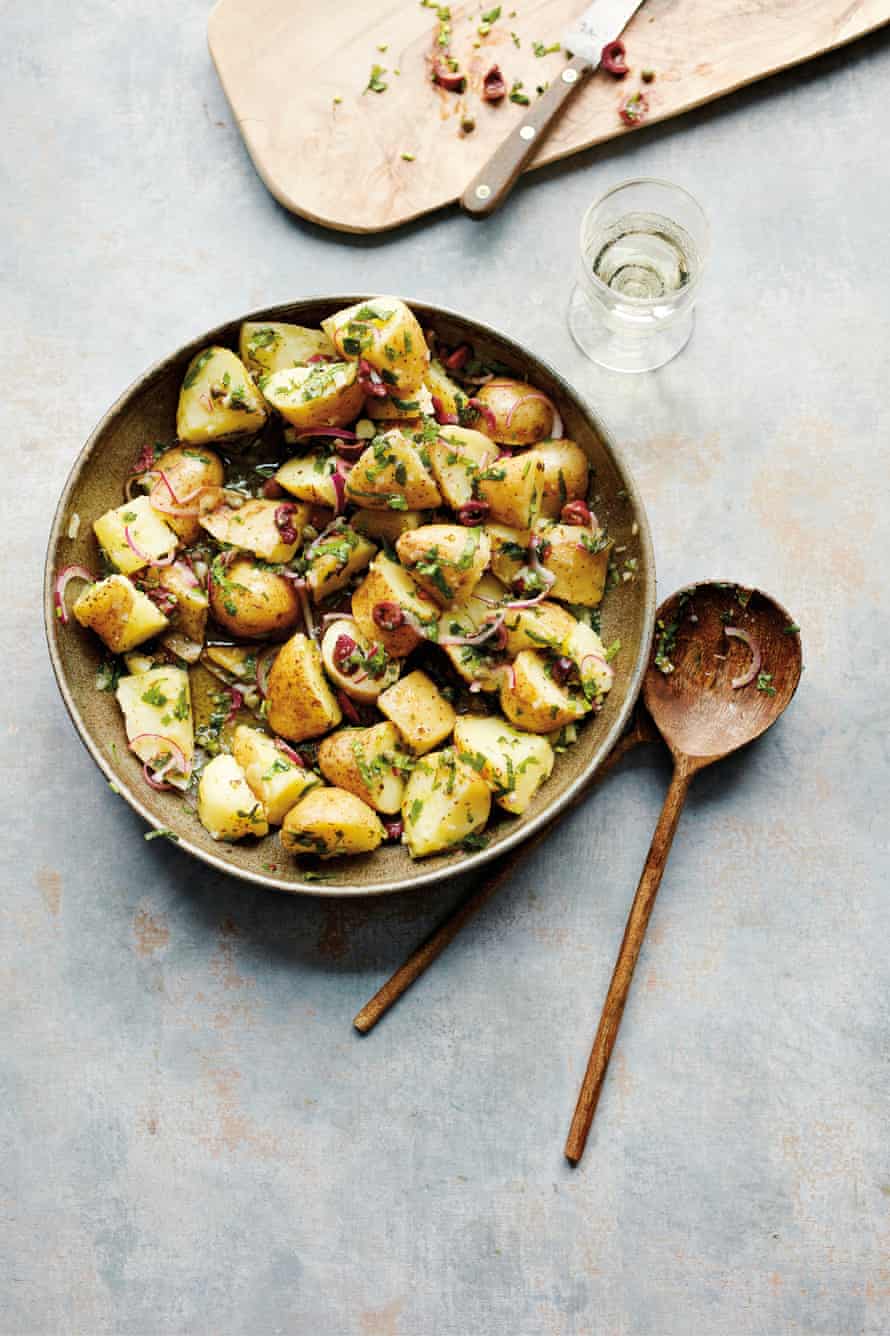 A tasty potato salad packed with herbs, perfect to pair with grilled meat or fish. Try using kalamata olives here, but if you can't find them, just try making the olives oily rather than salty in these dishes. Make sure to add the dressing while the potatoes are still hot, as they absorb the flavors better.
Homework 10 minutes
Cook 12 min
It serves 4
1 kg of Cypriot or new potatoes
1 medium lemon, unwaxed, finely grated
¼ red onion, finely sliced
60g black olives, boned and minced
2 tablespoons capers, drained and rinsed
1 tsp Dried oregano
3 tablespoons extra virgin olive oil
2 tablespoons lemon juice
handful of mint leaves, finely chopped
handful of coriander, finely chopped
Salt
Bmissing pepper
Cut the potatoes into large pieces (5 cm). I like to leave the skin on, but remove it if you prefer.
Bring a large saucepan of water to a boil. Add 1 teaspoon of salt and the potatoes to the pot and boil for about 12 minutes until soft. Drain and place in a serving bowl.
Add all the remaining ingredients along with ¼ teaspoon of salt and a generous amount of black pepper.
Reprinted Recipes from Ripe Figs: Recipes and Stories from Turkey, Greece and Cyprus, published by WW Norton & Company

www.theguardian.com
George is Digismak's reported cum editor with 13 years of experience in Journalism