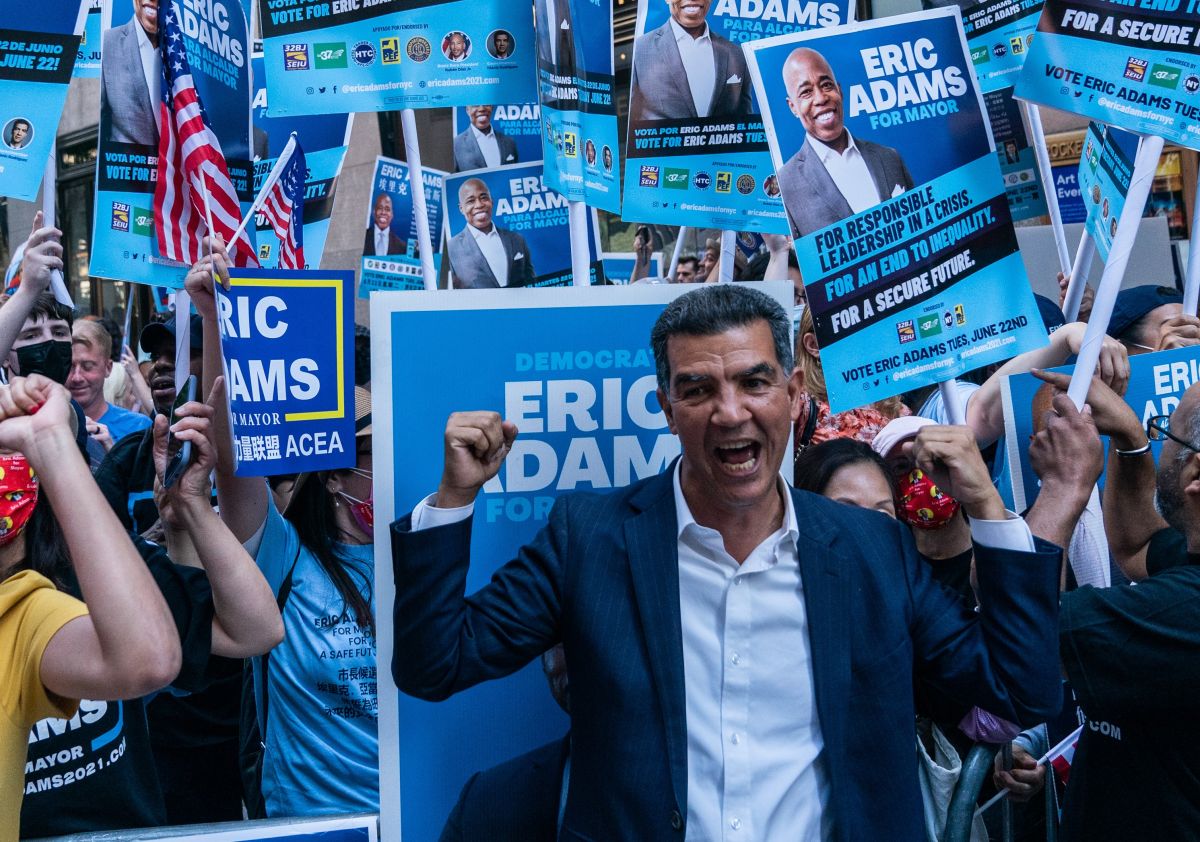 After having triumphed in the primary elections last June, with the overwhelming support of Latinos in their quest for Mayor of New York City, Eric Adams is emerging as the winner of the general elections on Tuesday, November 2.
And echoing the commitment that the Democratic candidate has expressed that Latinos will be a fundamental part of his Government, and that the Big Apple will see Hispanic leaders within the management of municipal agencies and even within its group of closest advisers, many see to the Councilor of Dominican origin Ydanis Rodriguez, who has been very active in the campaign, as an eventual letter from the next term.
In an interview with El Diario, Rodríguez He preferred not to refer to his eventual participation in the New York Mayor's Office, which will assume the mandate from 2022, but said he is fully certain that Latino leaders will be speaking closely to Adams from high positions.
Do you think Latino leaders will have leadership positions within the eventual Eric Adams Administration?
"I am confident that in Eric Adams we will have the closest ally that Latinos have known in the history of New York City, because he is not a new ally for us. In the 1980s and 1990s, when a voice was needed to demand that Latinos and African Americans be treated with the respect we deserved, Eric Adams was there with us. At the state level, he was passing laws, in favor of tenants, he was there. And in the campaign, Latinos have had a seat and a commitment that Latinos will be an important part. Latinos will not only be present with him, at the City Hall level, but in the agencies that touch the lives of New Yorkers, from picking up trash to having clean streets, building affordable housing and giving contracts to women and minorities. Eric has promised that he will be the Mayor who will work for all New Yorkers, and his commitment that Latinos will be part of that universe. "
How big can the influence of Latinos be in your Administration?
"Eric Adams has been clear that each of the constituencies in the five boroughs, with the largest presence of Latinos, gave him the majority vote. He has said that without the Latino vote, he would not be Mayor and he recognizes that contribution, and that in him, Latinos will continue to have that old friend that we have always had. And from January 1, going first through the November 2 elections, we will have him as Mayor, where for the first time we will have a very close ally of Latinos, as needed ".
You are talked about as a Latino power figure, as a possible advisor who could be considered in the Mayor's Office of Adams …
"The truth is right now I'm concentrating on making sure that Eric Adams is the next Mayor, with God in front of him, because how he said it himself, he doesn't win the game in the eighth inning and you have to close the last out of the ninth. inning. And now we are there, and we are going to continue with the energy, the same strategy that has moved us since the primaries, and now since the early voting, and the elections that end on November 2 so that people go out en masse to vote. We want Latinos to express themselves with force and count, because there is the power. Then we will continue to do what is necessary so that there is a team ready and that we are there with them. An important part of the leadership of his administration will be the ethnic groups where Latinos will be a priority in his government ".
What will it take to ensure that Latinos are truly empowered in an Adams Administration?
"That we vote with more force, so that on November 2, we can see the great presence that Hispanics have in the five boroughs. Let us Latinos go out to vote and let them see that being 29%, the second largest group in the city, it translates into percentage of votes and that it is seen that we are going to contribute to elect him as Mayor of New York ".
But how to guarantee that with Adams it does not happen like with other candidates, who promise to give a strong voice to Latinos, and when they win they forget their commitments?
"Eric has been very clear in the conversations he has had with the Latino leadership in New York. In dozens of times that he visited our neighborhoods, he said that we will have a presence in his Administration, that Latinos will be an important part of his team, and I am sure that this will be the case because he understands the importance of all sectors of the city of Nueva York are reflected in their government.

eldiariony.com
Eddie is an Australian news reporter with over 9 years in the industry and has published on Forbes and tech crunch.