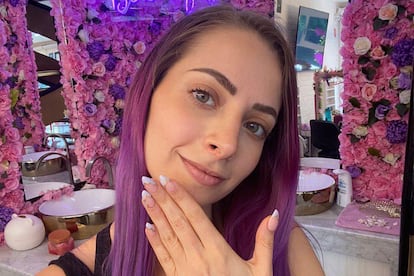 The influence Mexican Yoseline Hoffman insists on her innocence from prison. Through a letter released this weekend by her boyfriend Gerardo González, the youtuber accused of child pornography talks about her feelings in reclusion and defends her innocence. "I am stubborn, stubborn, proud, arrogant, foul-mouthed, self-centered. I have many defects and areas of opportunity, but I have never been a bad person, I have never hurt someone with intention, on the contrary, I believe that I am transparent and honest, so much so that it is a problem at times. They say that life is not unfair, what do you think? " It is read in the brief letter released through the social network Instagram.
The Mexico City Prosecutor's Office arrested the youtuber on June 29 after the complaint that the young Ainara Suárez filed against her for reproducing, storing and publicizing a video showing the group rape that Suárez suffered at a party, in May 2018, when she was 16 years old. . The arrested woman echoed the gang rape on her YouTube channel months later. In the 16-minute recording, Hoffman insulted Suárez by calling her a "whore" and a "asshole prostitute." Ricardo Cajal, the defendant's lawyer insists that his client only mentioned the fact and that she was unaware that the video was about a sexual attack on a minor. She (Hoffman) believes that it is a pornography video of an adult, "the litigant recently told this newspaper. Despite the defense arguments, a judge linked her to trial and issued preventive detention last week. After this measure, the influence, who has more than 10 million followers, may be in prison for at least two more months.
YosStop expressed his feelings after 12 days in prison. "I know that you have to put up with a rod, I know this will be resolved, but when? How long? What will happen in my absence? I don't know … How much is enough? I don't know … what I do know is that I look forward to this ending, "reads the two-page letter written in black and purple ink. The boyfriend of the youtuber He accompanied the publication of the letter with a defense to the 30-year-old. "Today I was able to see Yoss and he is fine. But very sad that this situation is disguised as false "justice" when in reality it is an absolute injustice, "González declared on his Instagram account.
Social networks have become one of the most recurrent channels for family members and followers of YosStop to demand their release. In addition to her boyfriend, the mother of the accused, Marina Badui, published a video last week to ask the head of Government of Mexico City, Claudia Sheinbaum, to take charge of her daughter's case and described it as an injustice that it is treated like a criminal. "Yoseline is a very enterprising person, very hard-working, very fighter. She has achieved everything she has done, and she has achieved it through her own work and she is a good person, "said the lady. Following this request, Sheinbaum indicated that the capital's prosecutor, Ernestina Godoy, will meet with Badui to review the case.
Subscribe here to newsletter of EL PAÍS México and receive all the informative keys of the current situation of this country

elpais.com
Eddie is an Australian news reporter with over 9 years in the industry and has published on Forbes and tech crunch.