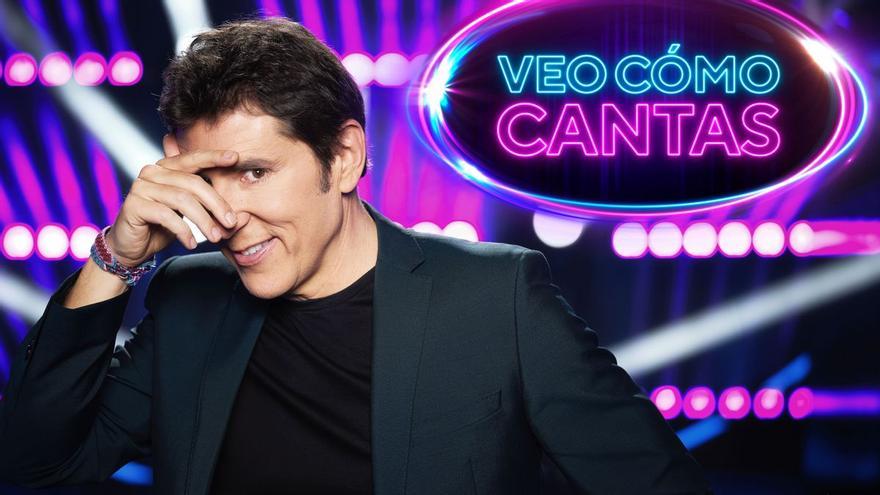 Although a Manel Fuentes (Barcelona, ​​1971) We immediately associated him with 'Tu cara me suena', the successful Antena 3 imitation contest that he has been presenting for 10 years, the journalist has a long career in radio ('Doce en punto', 'El matí de Catalunya Ràdio') and on television ('Martian Chronicles',' Whoever falls down ',' The night with … Fuentes and co'). Now he is the master of ceremonies of that exciting game of guessing who sings or not called 'See how you sing', which Antena 3 has just premiered with success. Fuentes is happy with this project that joins to 'Your face sounds to me', that will soon release its ninth edition. But he still wants more.
He will double on Antena 3.
And if necessary, I would have a daily program. Antena 3 knows how to get the most out of its assets. I have no problem. And I see how you sing is different for me than what I have done so far. like Caiga que caiga, Crónicas Marcianas, La Noche de Fuentes or a talent like Your face sounds to me. It is to go one step further, because you get into a guessing show and because it is a contest in which the contestants are risking money at a time when many people need it. With which, when playing with emotions, it is a little different from what a show is. There is a part that is the advise ,; another, very important, which is the contest, where the money is at stake, and then, another, to have it played at home as well. My task is to have a rhythm. And the challenge is to work with very talented people again, as in Caiga que caiga, and change that record.
Has it cost you to change it?
The truth is that I like challenges and I still have the soul of a learner. With which I have studied the format in other countries to see what the structure was. I have worked very hard at home, in the Warner offices … And since we were able to work a little bit in advance, the recordings were very fast. But, previously, we did have that moment of pause so that alchemy was to everyone's taste. I am very happy with the result.
The advisers have as much personality as the members of the jury of 'Your face sounds to me'. So you must use your ability to carry them.
I know Ruth Lorenzo and she is an absolutely perfectionist person who knows how to take care of all the details, and she had already worked with El Monaguillo. With Josie we have met many times and we had never managed to work together. And Ana Milan is one of my dreams for 'Your face sounds to me', because she is a person with great talent. With what blessed is the problem of having to put order. It would be worse not to have such powerful elements.
The program has been very well received. Were you worried that it wasn't so?
With any job you have to go with all the ambition, but also with all the humility. Even with 'Your face sounds to me' we are working from the base again: how to take advantage of the best scenario, the best 'casting' …. It is going to be the tenth year and we want everything to be perfect. And in the case of 'I see how you sing we are' in it. But with maximum effort and maximum ambition, the result is good. Although you always have to have the approval of the audience.
"In the contest 'I see how you sing' I do know who sings well and who sings badly, but it couldn't be noticed"
The advisers, in plain view, have no idea who is the singer and who is the impostor. And you?
I do know who sings well and who sings badly, but even if you try to get the contestant to get it right, it can't be noticed. And, at the same time, you have to prod the advisers so that there is a little more 'show'. It is a very ambivalent situation and that is why it is a personal challenge to further strengthen the record as a presenter. I am happy with the learning and with the traveling companions.
Both in 'Tu cara me suena' and in this program, how much is the script and how much improvisation?
After years of jobs in which you know what is going to happen, you gain experience. Maybe 'Caiga que caiga' was more of a script job, but with 'Your face sounds to me' you feel a bit like Xavi distributing a game, because you don't really know what is going to happen. And in 'I see how you sing' you don't know who they are going to choose first or what is going to happen. Or if an advisor is going to say something and you get the most out of it. You work a little without a network and that is where you give your best. Because you know that you cannot take refuge in anything.
And what expectations do you have with the contestants of the ninth edition of 'Tu cara me suena'?
There is a lot of talent. Very desired people who had tried to get them to come in previous years and we had not had the 'yes' due to scheduling problems or because they did not dare to take the step And the 'casting' was closed when there was more uncertainty. But many wanted to say: we are here and life continues despite the coronavirus. With which we want to go back and work to give the best possible program to Antena 3.
"I dream of doing a daily program. That gymnastics is something that I miss very much"
Nine seasons and always on top. Aren't you afraid that program might burn out?
With fear you cannot live. And without taking on challenges. You always have to work on the edge of what you know from experience and what you don't know, but you think you are capable of giving from yourself. It's been 10 years of 'Your face sounds to me' and I don't want to be a chive grandfather, but I don't tell you about 'Whoever falls down'. And they could tell me then if it didn't give me vertigo, and then in 'Martian Chronicles', and then in 'La noche … de Fuentes y cía', which lasted as long as it had to last. Things have their stages, but when there is honest and hard work, in the end there is an audience that does not abandon us and makes us continue to give our best.
And have you not suffered from the stoppages suffered by the pandemic?
No. The previous edition we were unemployed for eight months. It was the hardest moment, because we left the edition halfway through. And the truth is that the public came back super strong and we are delighted. For this we have worked very hard with many novelties with which we celebrate these 10 years in a magnificent way.
You can't complain, but do you dream of some other show?
With one daily. It's something that I would love. Think that I am used to doing radio for six hours every day and then doing a 'prime time' or daily midday programs. That daily gymnastics is something I really miss. Obviously, these 'prime times' are wonderful and I wish them a long life.
A daily program? Are you talking about presenting a contest or the new 'Public Mirror'?
I leave it there. Whoever has to decide, do it. But it can be a sports journalism program, normal journalism, contests or 'talents'. I am still passionate about this profession, I am still passionate about communicating and if the challenge is good and my fellow travelers too, go ahead.



www.informacion.es
Eddie is an Australian news reporter with over 9 years in the industry and has published on Forbes and tech crunch.