Little street and a lot of bed is what Albert Quinto, 33, has seen so far in 2021. On January 28 he entered the Parc Taulí hospital in Sabadell with a covid pneumonia and has not left four o'clock since. walls of a hospital. "The worst thing is not being able to move a finger, having a blocked body," he explains now that he is beginning to take his first steps in the gym at the Vall d'Hebron Hospital in Barcelona, ​​where he was transferred when his lungs began to collapse. Covid tends to evolve mildly or asymptomatically in young people, but around 1 in 100 infected people between the ages of 10 and 30 will require hospitalization. Now that the epidemic curve is soaring, especially among adolescents and twenty-somethings, experts ask young people not to relax: in addition to the risk of transmitting the disease to the vulnerable, unvaccinated population, the covid can also affect them, both as to require a hospital admission or suffer a persistent covid in the medium term. "We are at a very high point in the wave. Let young people know that they can see themselves alone in the hospital, be seriously ill, not recover or even die alone here. It's very hard, "Quinto ditch.
According to the latest report from the Carlos III Health Institute, 10,343 people with covid between the ages of 10 and 29 have required hospital admission since the end of the first state of alarm (on June 22, 2020). 527 people entered the intensive care units (ICU) and in total, the fatalities amounted to 73. The figures indicate that 1 in 2,000 affected people between 10 and 29 years old will need intensive care and one in 15,000 will die (the probabilities are two to four times higher in twentysomethings than teens). These small percentages become increasingly large absolute numbers as infections among this population grow.
In Spain, the cumulative incidence at 14 days has skyrocketed to over 1,300 cases per 100,000 inhabitants in adolescents and 1,600 in twentysomethings. Data from the Carlos III Health Institute still do not show an increase in the total number of hospitalized patients under 40 years of age (although the figures take a couple of weeks to consolidate), but they do reveal that an increasing percentage of covid patients than require hospitalization are younger than this age. If at the beginning of June it was around 20%, in recent times it was approximately double. This, rather than an increase in the income of young people, which is probably not being noticed yet, is due to the effect of vaccines among the elderly, who are entering less and less.
Last week, Victoria Trasmonte, an intensivist at the Hospital 12 de Octubre in Madrid, had three recent admissions to her ICU of people aged 35, 32 and 28 years old. "The 28-year-old girl had no history or obesity, she was healthy as an apple, but we had to intubate her. With young patients we try to avoid it because they tend to respond well to high-flow oxygen [una asistencia que ayuda a respirar a los enfermos a través de lo que denominan gafas nasales]. If it is treated early with high flow, many intubations are avoided, "he says. Javier, a 17-year-old young man who entered the emergency room with respiratory failure and ended up in intensive care with ventilatory support, also entered the ICU of the Gregorio Marañón Hospital. "There I saw people very badly and I thought that I too could die," he recounted in a video broadcast by the center.
In Quinto's case, neither high-flow oxygen nor a respirator worked. His lungs did not go back and he ended up connected to an extracorporeal oxygenation machine (ECMO), the last cartridge when mechanical ventilation fails. For two months, that device cleaned his blood and breathed for him. "When I woke up, I was blank. I stayed in shock. He had been asleep for two months and knew nothing of what was going on outside. The worst thing was seeing me alone ", he says now. The first visit with his family, he recalls, was by video call: just when he woke up, his parents were confined because his sister had tested positive.
Four months of rehabilitation
Since then, Quinto changed "the chip" and pulled his patience. Almost four months have passed since he woke up in the ICU and he is only now beginning to take his first steps and climb stairs. Fatigue is heavy and he has lost feeling in his left hand. You also can't raise your arms too much. Little by little, it is said. "When Albert left the ICU, he was left with neuropathy, an acquired weakness typical of the critical patient. Now we are doing an intensive rehabilitation program for him and we are working with the physiotherapists to improve his mobility limitations, we retrain the affected muscles and do occupational therapy ", explains Alba Gómez, a rehabilitation physician at Vall d'Hebron.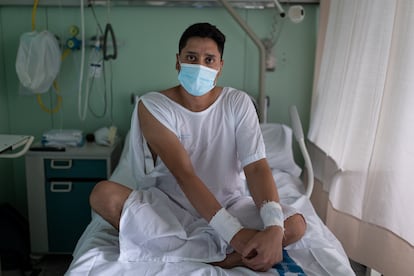 Doctors warn that the consequences of covid for young patients can also be potentially serious. Not all symptoms pass. Juan Torres, head of the Internal Medicine Service at the Infanta Leonor Hospital in Madrid and a member of the Spanish Society of Internal Medicine, warns: "Young people can feel protected, but they are not always protected. For starters, the risk of thrombosis when you come in for bilateral pneumonia is always there. And they are not taking into account the risk of suffering a persistent covid, with symptoms of tiredness, fatigue and muscle pain that persist over time. The number of people who suffer from it is not less ".
600 kilometers from Torres, in the last room of the second floor of the Vall d'Hebron, Federico Marcial, 29, speaks with his voice muffled and the anguish still in his body after a week in the ICU due to the covid . You think you caught it at the supermarket where you work, but you don't know for sure. Of those first days, he only remembers vomiting, that he "could not walk" and the uncertainty when entering the ICU. The fear, he says, of being intubated. "The fatal pass. I couldn't breathe and was in a lot of pain. I was very scared, "he recalls crestfallen. With glassy eyes and a broken voice, he regrets everything he has experienced in recent days. "It was horrible not being able to move out of bed and the uncertainty of not knowing how I was going to get out of here. The doctors were very scared because one day he improved and the next he was bad again. Now I just want to see my partner ", she lets out without suppressing her sobs.
Toilets waiting
Faced with the rise of the epidemic curve, professionals remain "on the lookout, but concerned," Torres resolves. They know the virus better, but the tools to fight it when it enters the body are what they are. With vaccinated patients, suggests the internist, "the feeling is that the evolution is better", but it is too early to draw conclusions.
The best, third Judith Rubio, a 22-year-old nursing student, continues to be taking care of yourself and avoiding the virus. She was infected in the first wave, after joining to reinforce the staff of a social health center in Molins de Rei (Barcelona). Little or nothing was known then about that virus that was ravaging the world unexpectedly. "I started to feel bad, with fatigue and I isolated myself in a room. Until I felt pressure in my chest and went to the health center, where I was diagnosed with covid. I had a 40 degree fever and was having trouble breathing. They admitted me and put me with increasingly powerful oxygen masks. But I kept desaturating ", recalls the young woman. Everything else, he notes, was like a movie: "Suddenly I saw everyone running, they moved me on a stretcher and every time I blinked I saw myself in a different space. When I woke up, I thought I had spent a very long night, and it had been five days in the ICU, "says Rubio.
So, he points out, everything was harder. Because of the uncertainty. "It is a very tough process. You cry and you say: 'I don't want to die.' You see death very closely. It is assumed that nothing happened to young people and you, suddenly, you see yourself in the hospital without being able to breathe and you are afraid. In addition, at the beginning, the relatives were not assured anything either because they did not know who was getting ahead and who was not, "he explains. Now, although doctors know more about the virus, they do not have them all with them and each case is a battle for life.

elpais.com
Eddie is an Australian news reporter with over 9 years in the industry and has published on Forbes and tech crunch.