The Danish toy company LEGO is mainly known for its building blocks, with which to unleash our imagination and create anything we can think of. But in its catalog there is a huge number of sets and collections of all kinds. Even from series and movies so that the most fans can have iconic scenes from their favorite works at home. we bring you some of the most impressive proposals from the catalog.
LEGO sets and collections
House of Home Alone
Recreate the adventures of Kevin McCallister against the ruthless wet bandits of 'Home Alone' with this LEGO set (249.99 euros). With 3,955 pieces and dimensions of 27 cm high by 34 cm wide and 37 cm deep, It comes with five minifigures and we can place traps throughout the house and revel in the sheer amount of detail in several of the movie's iconic scenes: Kevin ziplining to the tree house, Kevin and the aftershave, the spider, the straightener on Marv's face, etc.
Thor's Hammer
Become the god of thunder and strength from Norse and Germanic mythology with Mjölnir, Thor's hammer (119.99 euros). The kit contains 979 pieces, a Thor minifigure and three small models: the Infinity Gauntlet, the Tesseract and the Fire of Odin. It has space to store these objects so they don't get lost.
disney castle
The Disney Castle (349.99 euros) is made up of more than 4,000 pieces and provides a rewarding experience of both construction and play. Recreate the facade and detailed towers of Walt Disney World Resort's iconic Cinderella Castle. Includes five minifigures: Mickey Mouse in a tuxedo, Minnie Mouse in a red dress, Donald Duck in a classic outfit, Daisy Duck in a pink skirt and Tinker Bell with a wig, wings and wand. It is divided into several floors, with the main hall, a pendant lamp, a chest with a book of spells, a bedroom, a kitchen and many details.
Central Perk
With the celebration of the 25th anniversary of the iconic television series Friends, the LEGO Central Perk (79.99 euros) also arrived. This recreation of the coffee shop set is packed with detail: the area where the friends sit with the sofa, armchair and two chairs and the stage where Phoebe played her songs on the guitar. Seven minifigures are included: Ross, Rachel, Chandler, Monica, Joey, Phoebe and Gunther. It's also packed with accessories, as each minifigure comes with their own items, as well as other accessories based on the cafeteria set.
LEGO 21319 Ideas Central Perk, Friends Series Café with Mini Figures, Model to Build for Children +16 Years and Adults
Seinfeld
Another television series that made history was Seinfeld, and most fans can honor it with Jerry's apartment (79.99 euros): the kitchen-living room, the corridor, five minifigures (Jerry, George, Cosmo, Elaine and Newman) with elements that represent a microphone, donut, fishing rod, slice of bread and fish in a bag. Also includes buildable stage and series-inspired accessories.
NES
Nintendo's second desktop video game console belonging to the third generation and eight bits marked an era, and this LEGO set (229.99 euros) is a faithful reproduction that comes with the controller and the game cartridge, as well as a television with design straight out of the 80s. Insert the game cartridge into the console, plug in the controller and change the position of the selector on the TV to make the 8-bit Mario move across the screen.
Nintendo Entertainment System™
Adventures with Mario Starter Pack
LEGO also has more Super Mario Bros. related products that make up a universe and is full of expansions. To begin with, the initial pack of Adventures with Mario (59.99 euros) is quite good and includes LEGO Mario with expressive instant reactions and iconic sounds. Players will earn coins for defeating enemies, overcoming obstacles, and jumping over the question mark block. The set has 231 pieces and is ideal for children ages six and up.
LEGO 71360 Super Mario Starter Pack: Adventures with Mario, Interactive Set with Figures, Buildable Game, Original Communion Gift
hogwarts castle
Are you a fan of the wizard boy universe created by JK Rowling? Well, you can't miss Hogwarts Castle (419.99 euros). It's packed with details: the Whomping Willow, including a buildable model of the flying blue Ford Anglia; the dining room, with stained glass windows to build and many more elements; the Secret Chamber to face the Basilisk; Hagrid's Hut; and many more sites: the towers, turrets, chambers, classrooms, etc. Includes four minifigures: Godric Gryffindos, Helga Hufflepuff, Salazar Slytherin and Rowena Ravenclaw.
LEGO Harry Potter Hogwarts Castle 71043 Large Building Set for Wizarding Fans Aged 16+ with 4 Mini Figures
Hogwarts Magical Trunk
Another set that Harry Potter fans cannot miss is the Hogwarts Magical Trunk (59.99 euros). It's packed with minifigures and buildable elements inspired by the movies. Contains reconfigurable furniture and accessories so that different characters can be created. Among the items you have, are the Selected Hat, potions, a cauldron, potion book, marauder's map, dragees, chalices, chessboard and more. Three memorable scenes from the movies can be built and played out: Selection Ceremony, banquet in the Great Hall and the common room.
LEGO 76399 Harry Potter Hogwarts Magical Chest, Accessory Set, Customizable Toy, Communion Gift for Boys and Girls
Millenium Falcon
We go to the Star Wars universe with the Millennium Falcon (159.99 euros). Featuring rotating top and bottom defensive turrets, spring-loaded shooters, descending ramp and an opening cockpit with space for two minifigures, this set includes seven minifigures and the ship is highly detailed: cargo area with two containers, navigation computer with swivel chair, sofa and holographic Dejarik board, kitchen, bunk and smuggling compartment hidden.
LEGO 75257 Star Wars Millennium Falcon Spaceship Building Set with Chewbacca, Lando, C-3PO, R2-D2 Minifigures
R2-D2
The friendly robot R2-D2 (199.99 euros) LEGO version has been recently renovated to provide more highly realistic details. It has a retractable center leg to move figure, rotating head and periscope that rises to be aware of his surroundings, opening front doors to deploy weapons, Luke Skywalker's lightsaber, display base with plaque and commemorative brick of the Lucasfilm 50th anniversary.
LEGO Star Wars 2021 R2-D2 Collectible Building Toy (75308) (2314 Pieces)
Statue of Liberty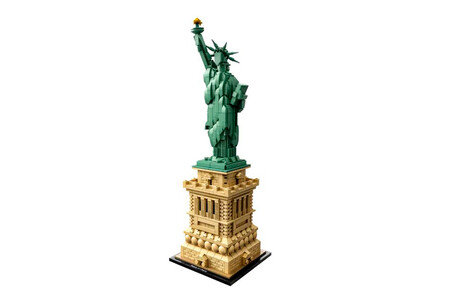 The emblematic symbol of the United States and the city of New York, the Statue of Liberty (99.99 euros). This LEGO reproduction features a elaborate pedestal decorated with shields, brick details, columns and more details, such as the crown of seven rays, the emblematic tablet and the golden torch. Includes over 1,685 building elements and a booklet containing information on the design, architecture, and history of this building (English and French only, other languages ​​available through website).
LEGO 21042 Architecture Statue of Liberty New York Building Set, Collector's Model, Decorative Model
Sonic the Hedgehog – Green Hill area
The beloved ultra-fast blue hedgehog from the SEGA video games also has its place in the LEGO world with the representation of the iconic Green Hill area (69.99 euros), with details such as a palm tree, looping bridge, rings, TV screen, Dr. Eggman's Eggmobile and a spring for supersonic jumps. It comes with a Sonic minifigure and additional brick-build figures of Dr. Eggman, his vehicle, a two-faced Moto Bug and a Crabmeat.
LEGO 21331 Ideas Sonic The Hedgehog – Green Hill Zone, Model to Build Adults, Set with Dr. Eggman, Gift Inspired by 90s Video Game
Typewriter
Go back to the time when there were no computers with the model of the typewriter (199.99 euros), inspired by the one used by Ole Kirk Kristiansen, the founder of The LEGO Group. It moves and sounds like the real thing. Brick-built center type bar rises at the press of a key and is linked to the cart, which scrolls as you type. It also has a roller in which you can put real paper. With 2,079 pieces, it comes with an illustrated booklet with information.
Real Madrid Stadium – Santiago Bernabeu
We end with the Santiago Bernabéu stadium (349.99 euros), a symbol of Real Madrid and which pays tribute to more than 75 years of play. Recreate the pitch of the stadium with the famous grass pattern and many other elements: goals, tunnel, benches, markers, banners, stands and stairs. Includes a printed Real Madrid logo and the team bus. It is divisible to reveal its interior, as well as the roof that is removable.
Real Madrid Stadium – Santiago Bernabeu
At Xataka Selección we publish the best offers in technology, computing and electronics from the main internet businesses. Prices and availability may change after publication.
You can be up to date and at all times informed of the main offers and news of Xataka Selection on our Telegram channel or on our profiles. TwitterFacebook and Flipboard magazine.

Note: Some of the links posted here are affiliate links. Despite this, none of the items mentioned have been proposed by either the brands or the stores, their introduction being a unique decision of the editorial team.
George is Digismak's reported cum editor with 13 years of experience in Journalism