When the last tourist has stopped photographing the monumental palaces that rise above the Zócalo in Mexico City, an army of workers dressed in green invades the great plaza, the heart of Mexican power. They bring brooms, hoses, garbage carts and two of them come armed with two small shovels. They have the most peculiar job tonight: cleaning the streets of the chewing gum that thousands of Mexicans and travelers have left in this place, the epicenter of tourism in one of the largest capitals in the world. They are Rita Gutiérrez (56 years old) and Félix Vega (48). She suffers from pain in one of her legs, he has a congenital disease in his right hand. Squatting they go from one point to another on the enormous Calle Madero, which ends at the Zócalo, with the aim of not leaving a single chewed gum stuck. "Sometimes it disgusts me, because of the smells, but as this is a tourist area it must be kept clean. In addition, the president enters this area [Andrés Manuel López Obrador] and you have to wash it, "says Rita as she shows the first results of her work: a disposable cup with some blackened gum torn from the beautiful avenue.
It is a cool autumn morning in the city. The palaces look imposing, festooned with dim colored lights that highlight their grandeur on this moonless night. From time to time a violent gust of cold air breaks the tranquility of the Zócalo, where the occasional late night rush by in search of their home or the next drink. Maybe you're lucky, because in the distance cumbias can still be heard in canteens that are open late. The policemen who guard the Zócalo pull their hats up to their ears or wear scarves to pass the cool dawn. In the eaves of stores that offer all kinds of jewelry, the homeless settle on some cardboard and covered with sheets scratched by time. One of them heats up by absorbing what little glue is left in an old soda bottle.
Rita is short and petite, her skin brown and wrinkled, more like that of an old woman. She is a sweet woman, with an easy laugh that shows her teeth reinforced with metal crowns; does not have a single drop of shyness. She opens up to journalists with self-confidence, as if grateful that they get a talk from her within her monotonous work. He is not limited in the recounting of his life: before the pandemic he worked in a company canteen, in charge of serving food to employees. It was a good job, he says, but the pandemic, like so many people, played a trick on him. By sending people to work at home, the canteen was no longer necessary and she and her colleagues found each other unemployed overnight. A friend told her about this cleaning job and she applied for a position and was accepted. He never imagined that it was a question of collecting chewing gum. His day begins every day at ten o'clock at night, so he must leave a couple of hours before his home in Valle de Chalco, in the neighboring State of Mexico. Take a truck and then the subway. Her only tool is the small shovel, although she had to buy another one and adapt the handle with a paper lining so that it does not hurt her hands so much, because sometimes Rita has to force herself to remove the gum. For this job he earns 200 pesos for the day, but 50 goes flying in the cost of transportation.
Felix asks his girlfriend for understanding, he says, because work schedules disrupt the time they can be together. Before, they could spend more hours giving themselves to their love, because Félix worked as a street vendor of cleaning products, imposing his own schedules. He is a short, plump man, shy and suspicious. He says that the job is fine, because he needs the 6,000 pesos that he earns per month and more in hard times, when finding a job is not so easy. He hopes, however, that conditions will improve and engages in a monotonous soliloquy, in which he affirms that he is hopeful that President López Obrador will fulfill his promises to improve the conditions of the poor. He comes from further afield, from Texcoco, on a two-hour trip to the heart of Mexico City. Tonight he is sitting on a piece of cardboard to avoid contact with the cold Madero floor and he is determined to remove a stain from the rebellious road.
These two people move like Lilliputians through the immense avenue, one of the most beautiful in the capital. Next to it stand the old stately mansions, which were the symbol of an economic power that has now disappeared. Here is the magnificent Palacio de Iturbide, built between 1779 and 1785 and in whose splendid halls are organized exhibitions and houses Mexican art from the 16th centuries to date. The Latin America Tower also stands tall and below it there is a trip to the past in the San Francisco convent. International brands have turned the palaces into shops for clothes, shoes, jewelry and even restaurants, as has happened with the Casa de los Azulejos, which once belonged to the family of the writer Elena Poniatowska. It is a heritage that the 350,000 people who pass through La Madero appreciate every day, which makes it one of the most trodden and disorderly streets in the world. But none of these jewels attract the attention of Rita and Felix. They remain committed to their work, fearful that supervisors will catch them in a breather outside of break time.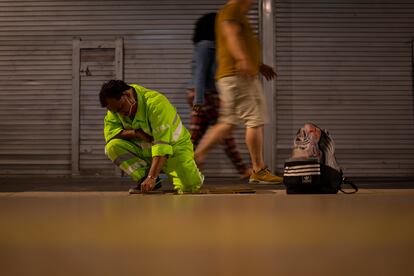 Because they do not work directly for the Government of Mexico City, but are subcontracted by a company whose name they do not dare to say. Although they assure that the treatment is cordial, the calls for attention can be harsh if the supervisors believe that they have not done the job well and the workday is also deducted if they miss a day of work. Losing 200 pesos, for these people who live from day to day, is a tragedy. "Life is expensive and you have to make it happen," explains Rita, who is glad she didn't have children, she declares, because "they are very expensive." They have one week of vacation a year and social security, but they resent not having other benefits, especially food vouchers that allow them to enlarge the meager household basket. Tonight, for example, Rita will only have bread and coffee and claims that she will have some fruit and breakfast when she returns home.
Chewed gum is part of the huge garbage problem in an equally huge city. The Ministry of Works and Services of the capital affirms that 720 tons of waste are collected every day in Mexico City, a job commissioned to 2,700 street sweepers, divided into 270 cleaning crews. Each of these brigades, according to the agency, travels around five kilometers a day, until cleaning the 1,116 kilometers that make up the Chilanga primary road network. Because of that effort, the city does not look dirty. Attention is paying more attention to tourist areas, which generate large revenues for the local government. Despite the strenuous work, Rita and Félix complain that some people do not respect their work: they pass them by throwing garbage or try to circumvent them without prudence, at the risk of hitting them.
While a public utility technician maintains one of the lamps in the Zócalo, Rita throws herself on the frozen floor, bent on removing a stain. It is also part of their work, because the next day this pedestrian walkway must be dazzling. The woman scrapes with her small shovel and a frown of rage is drawn on her face in front of the insolent stain. He still has several hours of work left in the cold morning, until his supervisors arrive and give the go-ahead for his effort. Then he will remove his green jumpsuit and run to the subway, waiting for it to go empty so he can sit down during his long journey home. As she moves toward her destination, the first tourists will begin to arrive at the Madero, ready to stamp their chewing gums on the gleaming ground.
Subscribe here to newsletter of EL PAÍS México and receive all the informative keys of the current situation of this country

elpais.com
Eddie is an Australian news reporter with over 9 years in the industry and has published on Forbes and tech crunch.