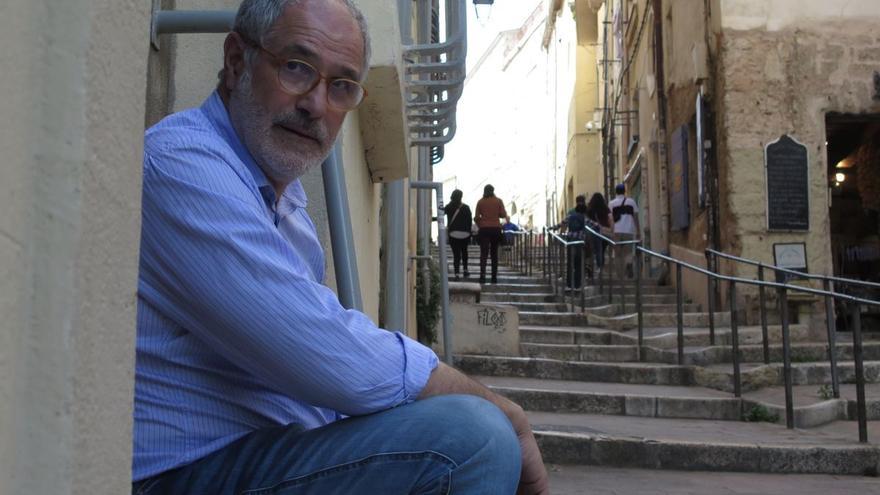 La Cartuja sounds familiar to you, you were there as director of that stadium and, now, another final is being played in that venue.
Great place, great stadium, very, very unknown, a shame, although now it has come to light again. It is not, of course, a stadium that Seville has very present, normal with Benito Villamarin and Sánchez Pizjuan, plus those two fans and such great rivalries, but it is beautiful to play there. And, yes, at the beginning of the new century I organized Cup and UEFA finals, national team matches and even concerts by Alejandro Sanz and Maná. Well, jobs that one has done in his life and of which he keeps a great memory. Barça already played a cup final in Valencia, when Valencia was my other home and, now, they play another in Seville, where I also had a home.
And, again, still without an audience.
You see, for us, for the Athletic fans, none of that will be new, of course. Again an exciting finale, much loved, long awaited, seen on television. The one that was experienced against Real, a very, very, special rival and, now, the one that is experienced against another friend, well-known adversary, Barça, who was already beaten in the Super Cup. It gives the feeling that Athletic fans are trained to experience these events from a distance, although it is not so pleasant, no.
You have to live a final, win it, of course, but, above all, enjoy it and that is how it seems impossible to me.
Well, I remember going to Vicente Calderón with my father to a final against Castellón where Vicente del Bosque played, car, sandwiches, friends, family, travel, party, passion, contagion, complicity. But there were more people from Athletic than from Barça in the Camp Nou final! A final is that, much, much more, than a game, but… but now we have to limit ourselves, which is already a lot, to 90 minutes of football. There is no choice but to accept it and that, in football, which is always presented as a party, is hard to digest, yes.
And Athletic, above, is exposed to losing the two finals.
Well, well, that must be seen, but it can happen, without a doubt. And that possibility, I am not saying that of losing and / or winning, but how you live that game, that moment, that joy or sadness, is also part of the final. The homecoming back then, the anger to lose, the madness to win … that is also part of a final.
It is still great and admirable that Athletic survives and plays finals with its unshakable idea in a football so, so, millionaire, almost a business.
That continues to be the originality of Athletic, its way of living and facing the game and, without a doubt, what keeps it so united and so in contact with its people. I think that, in and of itself, is Athletic's success, continuing with its uniqueness when everyone looks for other avenues, perfectly legal and praiseworthy, of course. As a friend of mine says, "ours is unique, original, highly praiseworthy, yes, but, hey, since we are in the final, let's win it right?" Well, people are, yes, tremendously proud of the uniqueness of their club, of reaching where they have arrived, where it is difficult to get there, but that uniqueness also feeds on triumphs, titles and that's where it is.
Come on, they need to win like all clubs, teams and hobbies in the world.
Obviously, this is a unique sport and the ultimate goal is to win games, titles, whatever, everything. Yes, of course, it is true that the uniqueness of Athletic, I repeat, makes you proud, makes you feel, be, different, but winning you have to win like everyone else. You like, of course you like it, that your team has with the territory, with the society in which you live, with your quarry, with your origins, with grassroots football all that complicity and until your neighbor plays in Athletic, your nephew, the son of your friend, that is to say, he feeds on proximity, on families. It is evident that, in the case of the Athetic, the social distance between the club and society is minimal, it is very reduced, almost already from school. But, I repeat, the legend also feeds on victories.
It seemed more feasible to win against Real Sociedad, didn't you think?
This is football, nothing, absolutely nothing, it is easy or feasible, not one game seems more accessible than another. We are talking about very strong rivals, a lot. Yes, many may have thought that the most favorable final for Athletic was the one that faced Real, but they lost. And now, 15 days later, it is their turn for the powerful Barça. Well, it is the same if they win it. They beat him not so long ago, so …
How do you see the final from a football point of view?
Well, I suppose that like everyone else, Athletic, as soon as Marcelino arrived, experienced a spectacular improvement, even in his debut match, in San Mamés, where he lost to Barça, details were already seen that there could be, in his game, a flood. Now I have read that he arrives in Seville in one of his worst streaks in recent years, six consecutive games without winning, but, well, it is a final and he has his weapons to win it. Maybe not as many as Barça, but they have them.
Do you see Barça as superior?
I saw Barça superior in football terms, but I'm afraid that the defeat in Valdebebas may cause some uncertainty in the Culé dressing room, I don't know. They seemed, they were, once again, a machine to play football well, to win with authority and Real Madrid, curiously how Athletic could do and act, surprised them with speed, on the backlash, well armed behind. I don't know, I think the final will be decided, as always, like all finals, by details and, without a doubt, Athletic needs to be very well protected, we will see if it can keep that defense so low and, above all, get it right. chances you have. We know that Barça is going to have them, because it generates a lot of football, but it also needs to get it right, too.
Do you still see Leo Messi as the enormous footballer that he is?
I don't think I'm the only one who continues to see Leo as a decisive footballer, right? Of course I see Leo as a unique player, of course! What's more, Athletic has already suffered Leo so many, so many times that it is impossible to doubt that, he alone, can decide that final. That is the greatness of Barça and its team that, in addition to collective solutions, has individual solutions in case the team fails. There is Leo, of course, but also Griezmann, and Dembélé, and De Jong arriving. Athletic, in that sense, has less potential, but it has already won a final against Barça and, that, footballers never forget. I already told you that in Lezama they have been thinking about it for days, Marcelino and his family, how to make Barça bitter at night.
And you, of course, between two waters, between the two banks, in the middle of the bridge.
I've known it for a long, long time: in this final, whatever happens, I always win and I always lose. Whoever wins, wins; but I also lose. The others are also mine.

www.informacion.es
Eddie is an Australian news reporter with over 9 years in the industry and has published on Forbes and tech crunch.